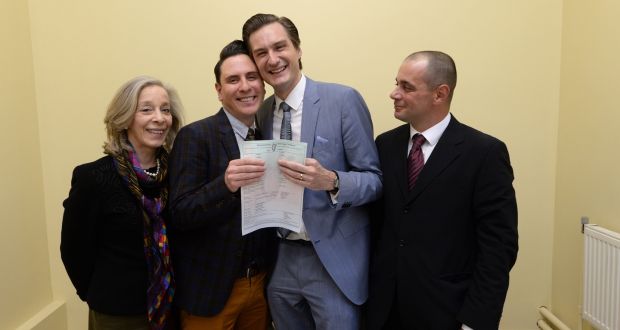 Cormac Gollogly, a barrister from Terenure in Dublin, and Richard Dowling, who works with AIB and is from Athlone, were Ireland's first gay couple to be married, in south Tipperary today.
"It's great to be the first to do it," said Cormac as he gave his new husband a kiss moments after Senior Registrar for South Tipperary, Mary Claire Heffernan confirmed that they were first same sex couple to be civilly married in Ireland.
Cormac (35)  and Richard (35)…met 12 years ago in The George in Dublin and within a few days were a couple and have been together ever since.
Gollogly and Dowling had formed a civil partnership in September:
"It's 'Murphy's Law' – had we not booked the civil partnership ceremony, then I bet the marriage referendum would not have passed, " joked Cormac who paid tribute to the Irish people for passing the referendum and allowing him to marry his beloved.
Both Richard and Cormac made solemn declarations that they knew of no lawful impediment to marrying each other before they both vowed to take the other as "their lawful wedded spouse to love and comfort him in sickness and in health".
► VIDEO: Congratulations Cormac & Richard! Ireland's first same-sex married couple. #MarRef https://t.co/Qtigbk08zN pic.twitter.com/5z5U4kiYSq

— Irish Times Video (@irishtimesvideo) November 17, 2015