POPULAR ON TOWLEROAD. Joseph Gordon-Levitt delivers a flawless lip sync performance of Janet Jackson's "Rhythm Nation."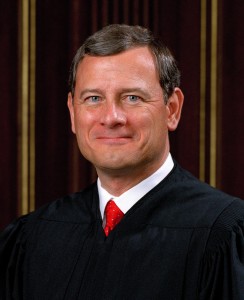 SCOTUS. Did Chief Justice John Roberts actually end up helping a marriage equality victory (even though he dissented in Obergefell)? "
MUSIC. Troye Sivan's cover of one of Adele's songs made her cry: "I burst into tears when I saw that. I couldn't really hear what it was at first and then Jonathan explained it was Troye's gig."
SWEET TOOTH. Oreo's has announced they will be taking cookies and cream to the next level with Oreo's churros. 
HATE. Dramatic uptick in inflammatory language aimed at American Muslims has been seen in the week since the Paris terror attacks. In that same time, there have been seven reported instances of anti-Muslim attacks or serious threats made against Muslims in the U.S.
THE DONALD. Trump now says he doesn't support databases to track American Muslims.
https://twitter.com/realDonaldTrump/status/667777348029292544?ref_src=twsrc%5Etfw
ROYALTY. The Duke and Duchess of Cambridge (aka Prince William and Katherine Middleton) look adorable and active while rock climbing. PHG nowhere to be seen, sadly. Kate maybe gets in a little dig at the strictures of her role? "'I'm quite enjoying this actually. For once I'm in control."
MALI UPDATE. 25 people were killed in the terrorist raid on a luxury hotel today including 1 American. 
DAHLING. Looks like Chris Colfer (Glee) will be in the Absolutely Fabulous movie.
Working with these ladies on @AbFabMovie was an absolute dream come true! @ferrifrump @JoannaLumley @JuliaSawalha1 pic.twitter.com/uApMYAU0nk

— Chris Colfer (@chriscolfer) November 20, 2015
ADVERTISING. Jennifer Lawrence removed from Hunger Games movie posters in Israel because posters with female images in Israel are often torn down.
POLITICS. Democrats use George W. Bush's words in campaign ad targeting Republicans' extreme views on Islam and refugees: "The face of terror is not the true faith of Islam. That's not what Islam is all about. Islam is peace. These terrorists don't represent peace. They represent evil and war. When we think of Islam we think of a faith that brings comfort to a billion people around the world. Billions of people find comfort and solace and peace, and that's made brothers and sisters out of every race, out of every race."
OUT. Johnny Depp says he's proud of his daughter Lily-Rose Depp for being open about her sexuality: "She's got thousands of followers on social media, and they were all taken completely by surprise. But not me. I already knew because she tells me everything – she's not afraid to say anything to me. We're super-tight and I'm very proud of our relationship."
I NEED TO PEE. Philadelphia mayor signs law requiring some restaurants to provide gender neutral bathrooms: "The law was proposed by the Office of LGBT Affairs to ease the discomfort of transgender people. Director Nellie Fitzpatrick says they can face stress, anxiety and even mistreatment when using gendered bathrooms. 'Providing access to a private, non-gendered, all-inclusive bathroom can simply reduce the stress of using the restroom.'"
INSTAGRAM. Steve Grand's got guns.
https://instagram.com/p/-Uejo4M08k/?taken-by=stevegrandmusic