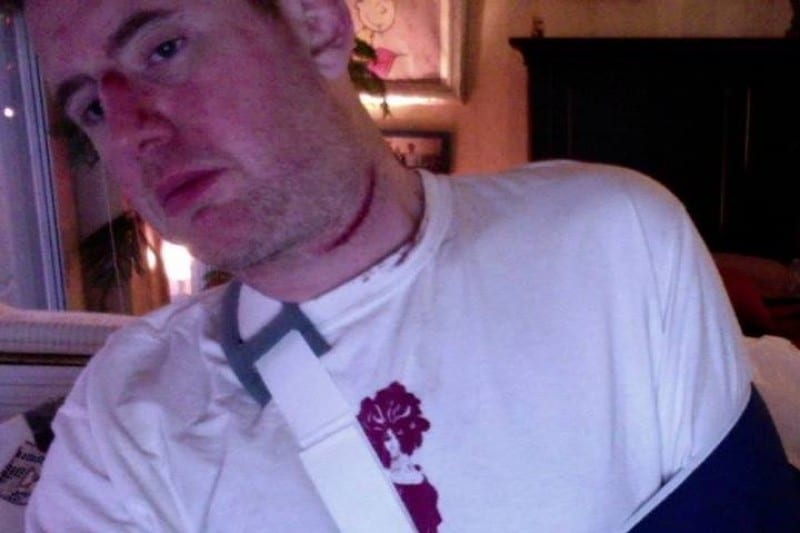 A gay man allegedly had his shoulder broken and throat slashed by three men after an altercation at Boston's Alley bar on Thanksgiving night. Michael Fontana, who is known to many as drag performer Eileen Dover, says he was followed out of the bar, attacked, and left unconscious, and spent the evening in the emergency room.
Wrote Fontana on a GoFundMe page set up to assist him with medical expenses:
Hello friends, Thursday, Thanksgiving night I was  with a friend at a place called Alley. 3 men came in and unplugged the jukebox which mtself and another patron were playing. They were asked to leave and did.
5 minutes later I decided to leave. They were waiting outside, followed me up the streety and began screaming "you're all a bunch of racist pigs." They surrounded me. I told them that I understood that the world is tough right now bu "Im on your side" that's the last thing I clearly rememmber.
They slashed my throat, broke my shoulder and crushed my phone so that I couldnt cal 911. They continued to beat me. The next thing I remember my friend found me and the police were there. I spent the night in the ER where they told me if my throat wound were a cm off I'd be dead,
I cant shop for myself, cook for myself, I have no phone and I can't make my shirts (my business). I hate asking for help but I am at this point terrified to leave my home.
I would be more than grateful  fot anything anyone can do. For me,asking for help adds to th humiliation of the situation but I have few choices. You, my friends and family mean everything to me and I thank you in advance just for thinking of me. Best! Mike/ E.Dover
Fontana added an update to the page today:
I am so overwhelmed by everyones help and when Im better able to type I'll thank you all personally. I have to see the doctor today. Hopefully he will be able to fit me with a proper sling and dress my neck. Tufts Medical didn't clean the wound or anything. I cleaned it at home. It looks worse than it is. Im very lucky! xx Love to all of you and again, thanks for your help. PS I think I get a phone back today! makes me feel less powerless. xx
Towleroad has learned from Don Gorton of the Anti-Violence Project of Massachusetts that the incident is being investigated as a hate crime by the Boston Police department and we have confirmed that the case has been assigned to a detective at the Civil Rights Unit.
UPDATE: The Alley released a statement to their Facebook page:
On Thanksgiving night Michael Fontana was socializing at The Alley. In the course of the evening, he engaged in an argument with two other customers. Both parties left approximately 8 minutes apart with Michael leaving first at 1:27AM. According to the police report, Michael was attacked in Court Square later that night. We are working with the Boston Police Department to provide the necessary video and piece together the timeline of events. This is a very unfortunate event and our sympathy is with Michael . We wish him a speedy recovery and will be doing everything we can to help bring the assailant to justice. 
UPDATE: The GoFundMe page has been taken down either by Fontana's own volition or the organization, which Fontana claims in messages to friends on Facebook has suspended the account pending the investigation.
Multiple people who are privy to the Facebook messages Fontana has been posting to friends only have sent those messages to Towleroad which we'll paraphrase due to the absence and lack of public information. In the messages Fontana indicates that his memories of that night are not good, he says he does not have all the details and that the GoFundMe page was a lapse in judgement. He apologizes to friends for creating a "circus", says he spoke too soon, acted out of fear, and is not a hateful person.
We'll publish more information as we get it…