Chris and George Zander, a gay couple in Palm Springs, California, were attacked in an anti-gay hate crime after leaving Hunters Nightclub on Sunday night.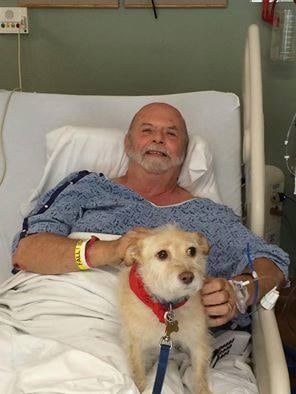 A report of the crime was posted on the Desert Stonewall Democrats Facebook page:
Two of Hunters patron's (Chris Zander and George Zander) part of the gay softball league on the Piranha's (orange jerseys) were assaulted after leaving Hunters last night about 8:15 pm.  They were holding hands and were called "faggots" and the aggressor got into an altercation with Chris. After stating that he did not want to fight, Chris released him. The instigator then came back with two buddies and snuck up and hit Chris on the back of the head with a bottle. Chris suffered a concussion and was knocked partially unconscious and needed staples in the back of his head and stiches to his lip.
George, an active member of Stonewall Democrats, (71+) was pushed down in the scuffle and broke his hip. George will be undergoing Hip Surgery at DHS tomorrow.  Both were taken by ambulance to DMRC, Chris was released. There were witnesses and a police report was filed. Detective Stephanie Campbell from the Palm Springs Police Department "crimes against persons unit " is handling the investigation.

The Desert Sun adds:
"It was complete anger, it was just anger," said Chris, who choked up as he recounted the incident Monday. "I don't understand why somebody would push a 71-year-old man over. It makes me want to cry every time I talk about it."
Palm Springs police officers reached the pair at the corner of South Calle Encilia and East Tahquitz Canyon Way around 8:40 p.m. Sunday. Investigators said two suspects — one described as a white male adult with a stocky build and red hair, the other only as a white male adult — fled the scene in a sedan-type vehicle, according to a statement issued around 5 p.m. Monday.
The City of Palm Springs condemned the attack:
On Sunday, November 1, the Palm Springs Police Department responded to a report of a felony injury incident believed to be a hate crime, as reported in the Police Department statement released earlier today. The two male victims sustained serious injuries and were transported to a local hospital.
The Mayor and the entire City Council, on behalf of the citizens of Palm Springs, condemn such an outrageous act in our city. Mayor Steve Pougnet stated, "Palm Springs has become a model of diversity where this kind of discrimination will not be tolerated. We have worked very hard to make sure our residents and visitors feel safe as they work and play in our city. We will not rest until the perpetrators of this heinous crime are apprehended."
We are fully committed to the safety of residents and visitors in the City of Palm Springs. The Police Department is aggressively pursuing all leads to apprehend the individuals responsible for this egregious act. Anyone with information related to this incident are asked to contact the Palm Springs Police Department.
Amy Blaisdell
Communications Director
City of Palm Springs
Desert Stonewall Democrats are raising money via GoFundMe to match a $5000 reward to apprehend and convict the attackers.
(image of George Zander facebook)