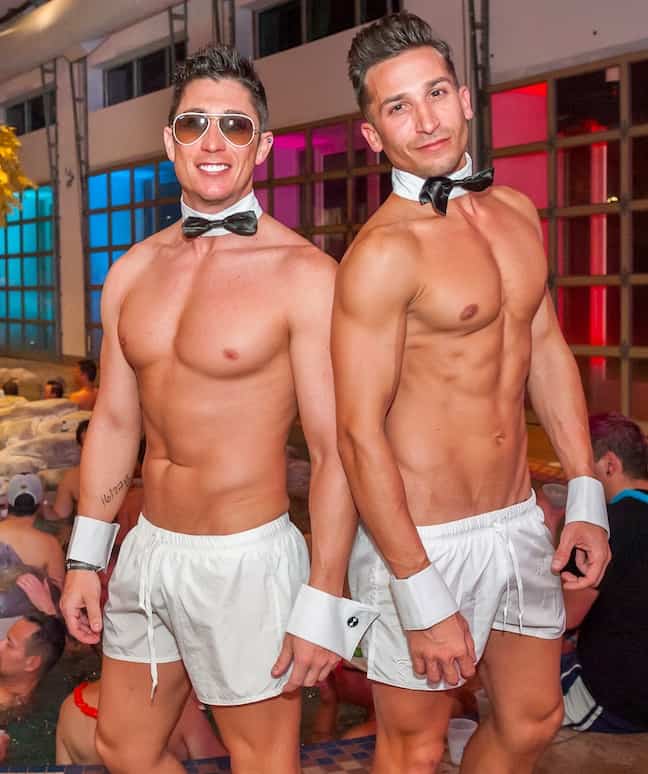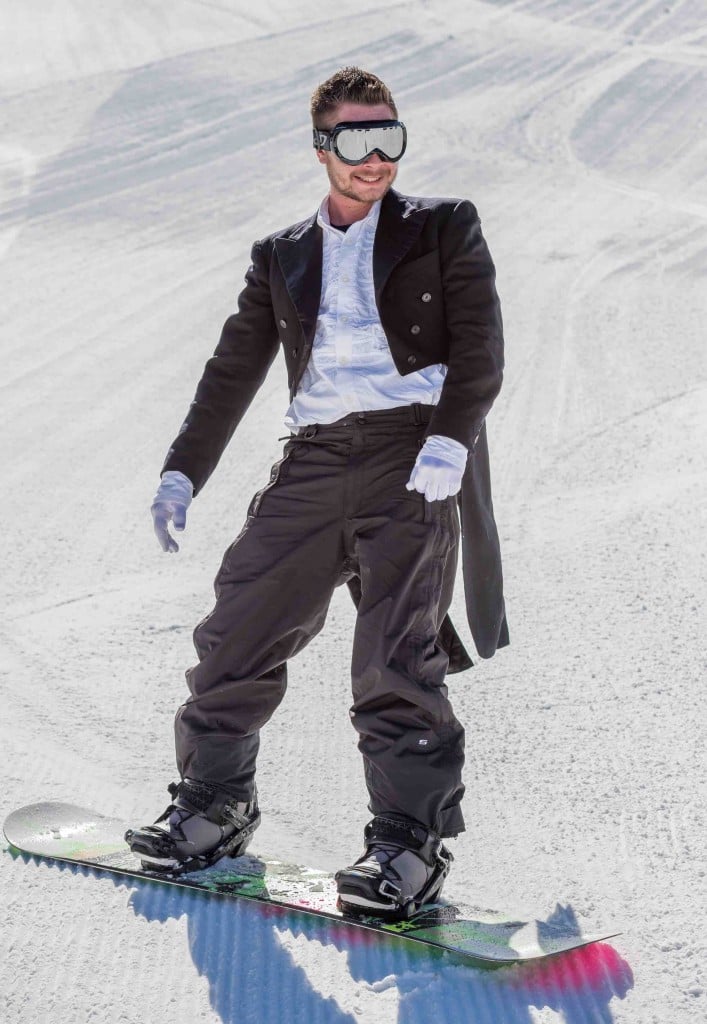 As the winter months approach again, some of us jet for the Caribbean's warm sands or the sunny beaches of South Florida. But some of us have been waiting all year for the snow, and for good reason: there's about a dozen fabulous gay ski events on the horizon, hosted in some of the most charming small ski towns around the world. From Aspen to Switzerland and back again, we've got the goods on the hottest winter events of 2016. So get your gay ski on!
JANUARY
Arosa Gay Ski Week/Switzerland Gay Ski Week
Arosa, Switzerland: January 10-17, 2016
Nearly 200 miles from the enchanting Zermatt resort is Arosa, another Switzerland gem that will host its 10th annual gay ski week starting January 12. The event draws more than 350 people and has become a major ski event for LGBT Europeans and world travelers.
Aspen Gay Ski Week
Aspen, Colorado: January 17-24, 2016
For 38 years now, the Aspen gay ski week has set the standard for outdoor vacations around the world, luring thousands of LGBT skiers every year to this glamorous, internationally-known city, just 30 minutes from Denver. Aspen Gay Ski Week is particularly welcoming to non-skiers, with a vibrant, culture-rich town to explore and lots of activities planned on and off-slope, including their boot camp, costume parade, the gay vs. straight hockey game, pool parties and the always fun hike to the top of Highland Bowl in drag.  Check out this cool app to keep a handle on all Aspen Gay Ski Week related events, dining options, and accommodations.
Stowe Gay Ski Week/Winter Rendezvous
Stowe, Vermont: January 20-24, 2016
East Coasters rejoice every January upon the return of Winter Rendezvous, Stowe, Vermont's gay ski week. This year marks its 30th year, when hundreds will spend four days in this picturesque town skiing, sledding, and escaping their urban environs. Highlights include a giant indoor pool party, a performance by Dina Martina, and a Sound of Music singalong at the Von Trapp Family Lodge!
WinterPRIDE
Whistler, British Columbia, Canada: January 23-31, 2016
The 23nd annual Gay Whistler pride event is one of the biggest of the year, drawing more than 2,500 people for its pool parties, snowball dances, and outdoor events. One of the leading LGBT events in North America, Gay Whistler attracts a ski hard/party hard crowd, most likely to strip their shirts off on the dance floor and still make it up to the top of the mountain before lunch.
FEBRUARY
Elevation: Utah Gay Ski Week
Park City, Utah: February 18-21 2016
Now in its sixth year, Elevation: Utah Gay Ski Week takes place just a few weeks after the Sundance Film Festival shuts the city down, attracting West Coast gays to a week of skiing and celebration in one of our favorite ski towns.
MARCH
Elevation: Mammoth Gay Ski Week
Mammoth Lake, California: March 18-22 2016
The 13th Annual Elevation: Mammoth Gay Ski Week attracts more than 2,500 riders and skiers coming to the High Sierras for Mammoth Lake's favorite event of the year.
European Gay Ski Week
L'Alpe d'Huez, Italy/France: March 19-26 2016
The European Gay Ski Week was the first LGBT event of its kind to be hosted in two European countries — France and Italy. The event in L'Alpe d'Huez is one of the biggest Europe has to offer:  stylish, chic, scenic, and full of gay pride attitude. European Gay Ski Week is in its sixth year.
SOUTHERN HEMISPHERE SNOW
Australia Gay Ski Week – Frosty Fruits Gay Ski Trip
Mount Hotham, Victoria, Australia: July 26-29 2016
The sixth Frosty Fruits trip returns to the Australian Alps in July with group events and activities; beautiful on-mountain accommodations; special entertainment; and hundreds of down-under guys.
DNA Gay Ski Week
Queensland, New Zealand: August 30-September 5 2016
The largest gay ski event in the Southern hemisphere, there is no shortage of events, dining, hotels, or gay pride during the Queenstown ski week in New Zealand, one of the world's most stunning landscapes.
Bariloche Gay Ski Week
San Carlos de Bariloche, Argentina: Dates TBD but usually early-to-mid September
We love Bariloche, and for those of you who can't get away this winter, make some time during the fall months to visit this lovely city once the snow has fallen there. Sometime in early-to-mid September, the city will host its gay ski week, but no dates have been confirmed as of yet. Check the link above as the month draws nearer. Be sure to review the Bariloche article in our Summer 2012 issue for more information on how to gay up your visit to the fabulous Argentine resort.
For even more gay travel inspiration and trip-planning information and suggestions for destinations, tours and events download ManAboutWorld's latest issue. Start planning your gay winter getaway now.
This weekly travel column is brought to you by ManAboutWorld, an immersive digital gay travel magazine for iOS and Android devices from Ed Salvato, Billy Kolber, Kenny Porpora, and nearly 75 Global Correspondents. For more recommendations from ManAboutWorld's global gay experts, download our App. There are FREE guides and a 10-issue-per-year subscription-based magazine.
Images: Courtesy Aspen Gay Ski Week