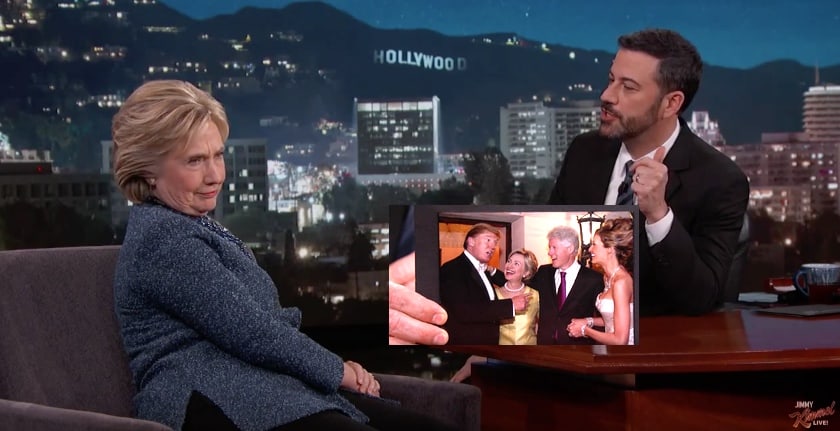 Hillary Clinton sat down with Jimmy Kimmel last night and talked about her busy day of campaigning, when the White House once hung up on her, the Republican debate, Jeb Bush and Ben Carson, attending Donald Trump's wedding and watching his SNL gig, climate change denialists, and whether she'd beat Bill Clinton in an election.
But first:
"When's the last time you've been good and hammered?"
Watch:
https://www.youtube.com/watch?v=dStQKGodacI
Hillary says that she tried to call the White House as Secretary of State and the operator wouldn't let her through because she didn't believe it was her and hung up.
"Does that person get beheaded?", Jimmy asks.
https://www.youtube.com/watch?v=B0YFSFG0yrs
Hillary live tweeted the Republican debate.
"I just disagreed with a lot of what they say. Obviously they have a right to run for president. I just wish they would address the real issues…I wish they would talk about at least what people are asking me about."
https://www.youtube.com/watch?v=p-RzTYV2fAM
Then she talked about Jeb Bush and Ben Carson:
"Do you feel sorry for Jeb Bush?," Kimmel asks.
Responds Hillary: "He's a very accomplished man. Running for president is really hard. Some days are better than other days. I don't pay a lot of attention on what's going on on the other side."
Kimmel asks: "When he comes out with a slogan like Jeb Bush can fix it, do you guys die laughing?"
Then Kimmel confronts Clinton with some of Carson's dumb statements and all Hillary can do is laugh:
"Seriously it really does matter what you say when you are  president. And it probably should matter what you say when you run for president because people all over the world especially leaders – friends and foes alike – they pay attention."
Then Hillary and Kimmel talk about climate change denialists and whether people really believe them:
"The fact is, it's hurting our country. And what I don't understand is there are huge economic opportunities here."
https://www.youtube.com/watch?v=pW9pGdQmWck
Hillary attended Donald Trump's wedding. Kimmel shows her a photo  and asks what she thinks of his policies:
"Is it like pro wrestling where you guys all pretend to dislike each other and you're all friends behind the scenes?"
Says Hillary: "We have a long list of nice things that Republicans have said about me. And then once the political season starts…I criticize his positions but I try not to get into a lot of the personal stuff."
Hillary says she might watch SNL over the weekend.
"I think he watched me."
https://www.youtube.com/watch?v=tfZdaGFnF9E
Kimmel asks Clinton what would change in the Clinton household if she were president, like would she get the head spot at the dinner table, or a different placement for the TV remote.
"I'm not thinking that far ahead. I've got a lot of work to do to win this nomination."
And she says Bill has goals in mind:
"He said he is working to break the iron grip that women have had on the spouse of the president."
And what would Bill be called? "First dude, first mate, first gentleman."
Will Bill be be selecting the White House China pattern as other first ladies do? We'll see.
"If I were gonna run against him, would I win? Yeah!"
https://www.youtube.com/watch?v=2OLchWH8jjI