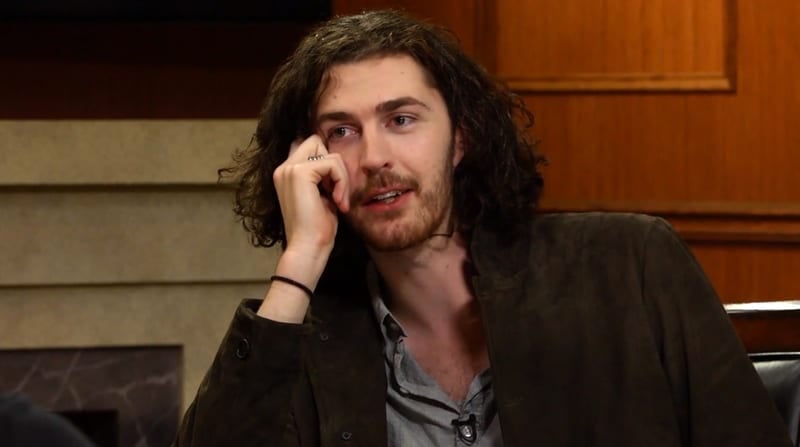 Hozier sat down for his first sit-down American interview this week with Kelly Osbourne who was filling in for Larry King on Larry King Now on Ora TV.
The Irish singer-songwriter's video "Take Me To Church" has been viewed on YouTube more than 86,000,000 times. The video itself cost $1500 and is a powerful statement about anti-LGBT oppression in Russia. As it turns out, Hozier's personal views on gay rights are as evolved as the video would have led us to believe.
Said Hozier:
"For me I saw it as a human rights thing, a very cut and dried human rights issue…What is frightening about Russia is it is not that far from home. Especially if you are in Europe, and cultures like that cross borders. They have done in the past. This kind of scapegoating of and othering of one group in society, that has happened before in the past in Europe not that long ago."
Hozier also talks about the Catholic Church and the current Pope's views on gay marriage:
"This is one of the paradoxes and weird hypocrisy of that organization. [Pope Francis] came out last year and said, 'Who am I to judge with regards to somebody's sexual orientation?' I think it is important to differentiate between lip service towards something and actually making change. I think it's hopeful, but saying that in 2015, 'Who am I to judge?' is something that you should be saying 100 years ago. It shouldn't have never been said at all really."
He adds:
"[The Catholic Church] is undeniably an organization that has institutionalized an aversion to homosexuality. One that has institutionalized gender inequality also, dangerous policy over contraception and, in this case, it still harbors an irrational aversion to homosexuality. Which in my view I think that is why I was driven to write 'Take Me to Church.' I think the church provides a justification for homophobia."
Also discussed in the interview, the whole of which is entirely worth watching: his pet peeves, his favorite thing about Ireland, who he'd like to collaborate with, and his wildest fan encounter.
But mostly you'll fall in love with this superhero progressive: