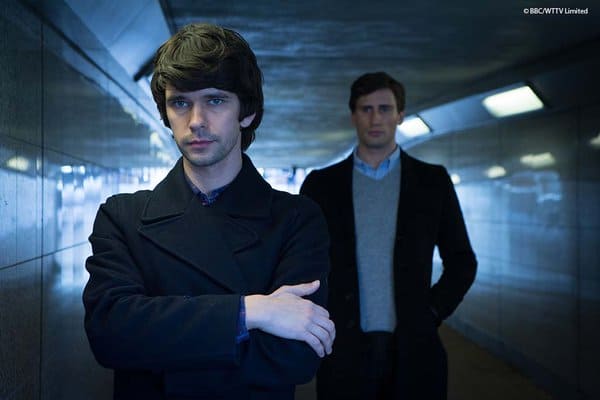 Actor Jim Broadbent says that London Spy, the upcoming BBC thriller about a gay spy who unwittingly gets his lover (Ben Whishaw) dragged into a nefarious world of espionage, is not inherently a "gay story."
"It's not a gay story. It's not about that. It's about these particular guys, who happen to be gay, who are in the midst of this maelstrom of an unfolding tale."
As previously reported, London Spy's central story emerges out of a gay relationship. The Guardian describes the plot thus:
Subtler and more romantic than your usual spook fare, the plot spirals out of a gay love story – surely the first such intrigue in a mainstream TV spy drama – and is propelled by Whishaw's perpetually downtrodden Danny. Working in a stock room by day and frequenting Vauxhall's clubs by night, Danny is, says Whishaw, a bit lost. But everything changes when he bumps into the beneficent, enigmatic Alex (Edward Holcroft) on Lambeth Bridge in the early hours after a night out. The two characters are vastly different: Alex is an awkward and eloquent maths genius; Danny is, despite his circumstances, cheeky, charming and boyish. But they click and a relationship blossoms. All this time, Danny believes Alex to be an investment banker, but he is in fact a gifted MI6 spy. And when the latter suddenly disappears and the police start asking difficult questions, Danny gets sucked into the shadowy, subversive, terrifying world of espionage. […]
After Alex vanishes, the main relationship we follow is between Danny and Scottie, Jim Broadbent's character. An elderly, wise but wounded figure, Scottie used to work in the secret services, and acts as a kind of mentor to Danny[…] There are also hints of unrequited love between the pair, an original set-up for the typically macho world of the spy thriller.
London Spy was penned by gay writer Tom Rob Smith and premieres tonight on BBC 2 in the UK.
Watch the trailer for the film below: