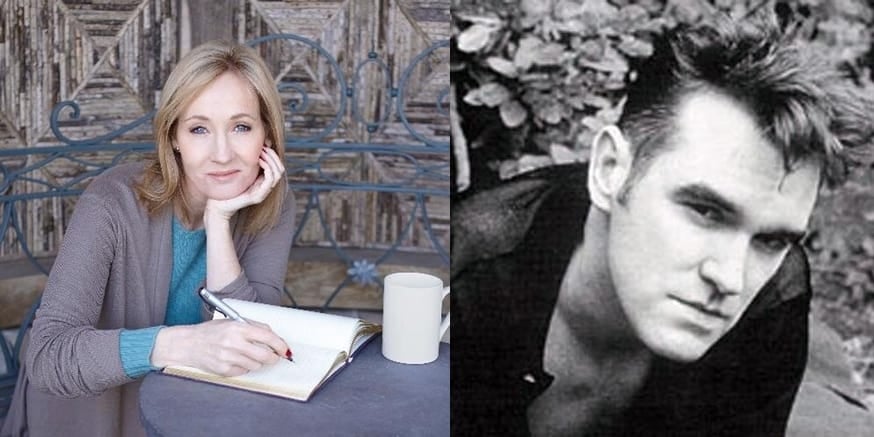 Harry Potter author JK Rowling tells The Guardian that as a 16-year-old she used to listen to The Smiths' "Heaven Knows I'm Miserable Now" in her bedroom and hope to one day meet lead singer Morrissey.
The obsession helps her understand her adult fans she says, and describes the moment she finally met her teenage idol and was as gobsmacked as she would have been as a teen:
"Their encounter occurred in Harvey Nichols, revealed the self-confessed 'big Smiths fan'. 'We were looking at each other, getting nearer and nearer, and at almost exactly the same moment we both put out our hands. What was amazing to me was, Morrissey knew who I was,' said the novelist.
'I was with my sister-in-law and she said, 'Put. Your. Hand. Down.' I was walking around afterwards with my hand out, like that … I said, 'Morrissey touched me!' She said, 'I know, you look stupid.'"
Rowling says the experience helps her understand why adults hold on to Harry Potter passions:
"The people who mean something to you at 16, 17, are the people who are getting you through stuff. So I absolutely understand why someone who is hanging on to Harry Potter as a safe place at 13 is excited at 21 to talk about what [Hogwarts] house they'd be in. I don't think it's infantile. I don't think it's any more infantile than me being excited to meet Morrissey … I wanted to go back to my 16-year-old self who's lying there in the dark with the joss sticks, listening to Heaven Knows I'm Miserable Now, and tell her, 'You'll meet him! He'll know who you are!'"