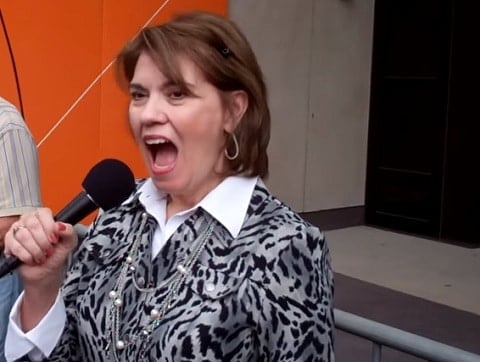 Demon-obsessed anti-gay harridan Linda Harvey has said that Barack Obama's support for the Equality act and his decision to appear on the cover of Out are signs of god's impending wrath on America.
Obama's the first sitting pres. to be photographed for cover of an LGBT publication. Have you seen @outmagazine? pic.twitter.com/qM2RH9RwSG

— The View (@TheView) November 11, 2015
Speaking on her Mission America radio commentary yesterday, Harvey said:
"Remember that radical homosexual bill in Congress I've been telling you about? The so-called Equality Act? Well, our president Barack Obama has announced he is endorsing this legislation, which would make homosexual behavior and gender confusion civil rights under U.S. law, just like race or religion.
"And to make matters even worse he just became the first sitting U.S. president to appear on the cover of a homosexual magazine. Obama's photo is on the front of Out magazine because he was named its ally of the year for 2015. Friends, America seems to be under judgment when we have such misguided leaders."
Earlier this month, Harvey said that gays want to sexually abuse children in order to recruit them for the LGBT rights cause.
Listen to Harvey and watch a Complex News report on Obama's Out cover below.
https://soundcloud.com/mission-america/111615obama-endorses-homosexual-equality-act-poses-for-cover-of-homosexual-magazine
https://www.youtube.com/watch?v=wXxf1PQbUYc