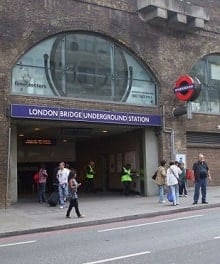 Police are searching for a man who exposed himself and shouted anti-gay slurs on the London underground earlier this year.
The suspect was seen at one end of the London Bridge platform on April 10th. When spotted, he redressed and boarded a southbound train.
Police are appealing for any information on the man's identity.
PC Leslie Dunnett said:
"I'd like to speak to the man in the CCTV image as I believe he may have vital information which could help with the investigation. People have the right to travel on the rail network without being made to feel uncomfortable or intimidated."
Earlier this year, a London man received a suspended sentence and was banned from traveling on trains wearing shorts after he exposed himself on public transport.