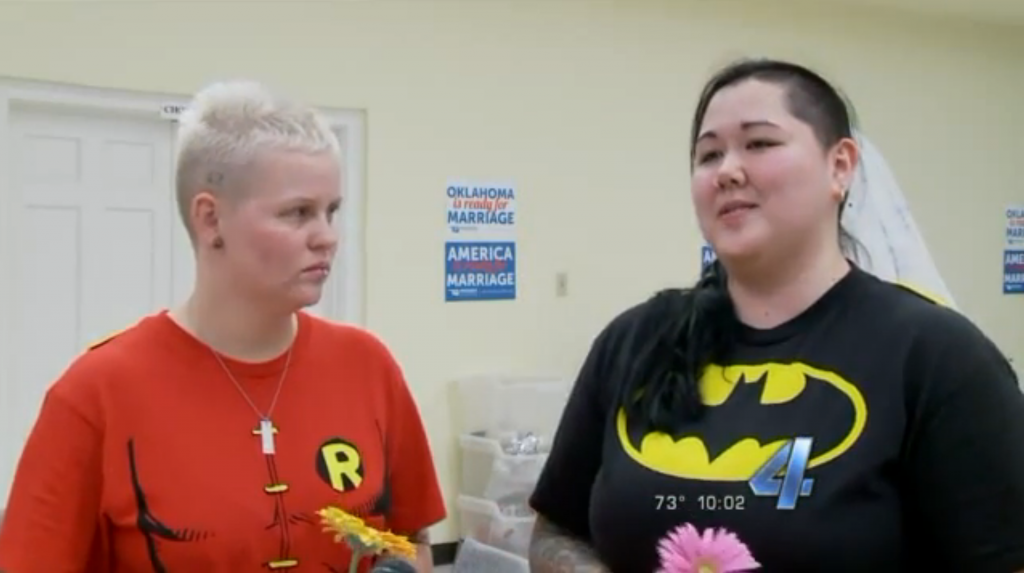 Many gay couples in Oklahoma celebrated their first wedding anniversaries last Tuesday, which marked one year since same-sex marriage became legal in the Sooner State.
On Oct. 6, 2014, the U.S. Supreme Court declined to hear appeals of pro-marriage equality rulings from three circuits, including the 10th, which covers Oklahoma.
Since then, nearly 4,000 gay couples in Oklahoma have tied the knot, according to Oklahomans for Equality. They include Kathy Voigtschild and Rachel Baker-Voigtschild (above), who dressed as Batman and Robin for their impromptu ceremony at Mayflower Congregational Church in Oklahoma City.
Toby Jenkins, executive director of Oklahomans for Equality, told Fox 23 that all but five counties in Oklahoma have issued same-sex marriage licenses. No gay couples have sought licenses in those five counties.
"We do not have a Kim Davis lurking in Oklahoma counties," Jenkins said.
However, LGBT advocates say some gays and lesbians have been fired from their jobs after marrying their partners. The Rev. Lori Walke, associate pastor at Mayflower Congregational Church, told The Times Record she's performed about 50 same-sex marriage ceremonies in the last year:
Walke said the right to wed was a huge step in the struggle for equality for the lesbian, gay, bisexual and transgender community but "it is just a piece of the puzzle."
"There's still discrimination out there. People can still be fired for being gay and lesbian — that's still happening," she said. "So, while we certainly want to change hearts and minds, we still need to change the law."
LGBT advocates will push for statewide nondiscrimination protections in next year's legislative session, but they also expect more anti-gay religious freedom legislation.
"They're not going to get through, hateful laws that will affect us," Oklahoma marriage plaintiff Mary Bishop-Baldwin told Fox 23. "We do believe that, because we believe that the majority of people in Oklahoma are not hateful, but do support equality for all people."
Watch Fox 23's report below.