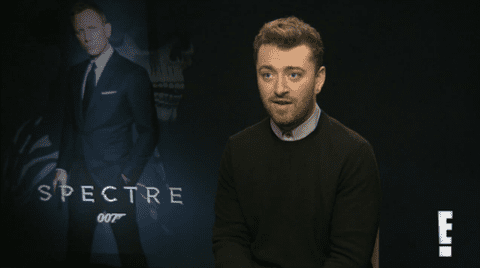 Out gay British crooner Sam Smith opened up about his dating life in an interview while on the press tour for the new 007 film, Spectre.
You'll recall Smith wrote the song "Writing's On The Wall" for Spectre. Speaking with E! News, the 23 year-old revealed that he has never had a boyfriend:
"I've never had a boyfriend so I don't really know any different, which I think is very lucky actually. I'm still learning on what's right and what's normal in dates."
"I think with anyone, you have to learn how to trust people and there's different challenges and hurdles in my life now but I'm trying to remain as normal as I was before."
Asked if he was ready for a relationship, Smith responded,
"Is anyone ready for a relationship? Who knows," he shared. "I've been single for 23 years so I don't know. It's going to take something."
Sam was previously linked romantically to Jonathan Zeizel, a dancer he met on the set of the music video for his song "Like I Can." As far as we can tell, Smith never referred to Zeizel as his boyfriend, only as 'someone he was seeing.' Smith and Zeisel stopped seeing each other in January.
Watch below: