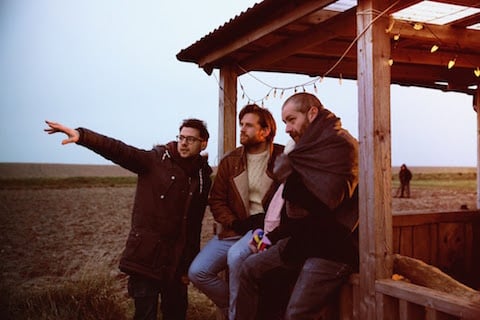 A new sci-fi film launching today on Vimeo On Demand has its sights set higher than galaxies far, far away. Credence, directed by Mike Buonaiuto, is aiming to redefine portrayals of gay characters in cinema.
It may sound like a lofty goal, but if there's anyone equipped to pull it off successfully, it's Buonaiuto. His previous work includes highly successful viral campaigns focused on LGBT parents, the military and the Sochi Olympics. He knows a thing or two about building momentum for a movement using online content. It's that spirit that helped Credence rocket beyond their Indiegogo funding goals, eventually raising more than $35,000. The result is a stunning, emotional 30-minute film focusing on two LGBT parents, Scott (Alex Hammond) and John (Anthony Topham), struggling to do what's best in the face of a world on the brink of destruction.
We spoke to Buonaiuto about the inspiration and reception of the film. Check out what he had to say, as well as the trailer below.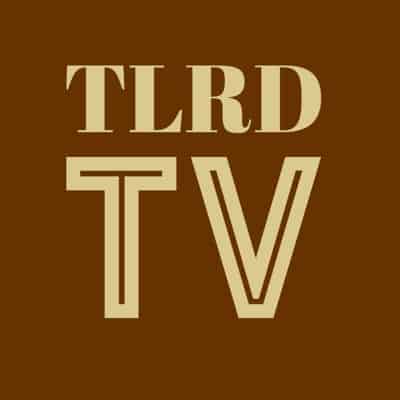 Towleroad: Your sweet spot with a lot of your work sits at the intersection of art and social good. What do you believe is art's role in creating social change?
Mike Buonaiuto: When it comes to social change, you need to think about it in three different steps: Emote, Educate and Action. I think the arts; role really falls into the emote section. Because I think what social change movements do really well, be they organizations or charities or non-profits, is they educate very, very well. And they expect when they educate that the people will take action. That's not the problem. To get someone to actually listen to you in the first place, they need to actually give a damn. They need to care about what you're telling them. It's like at school, you need to make it interesting for the kids, otherwise they're not going to listen. The minute you get them to listen, of course they're going to take action. So the arts' role, in my opinion, is to challenge convention, and also get people to feel something about what you're talking about. For me, really the whole purpose with Credence is to change the way that LGBT characters appear on screen. There are some absolutely amazing films that talk about LGBT characters, but they often fall into the same stereotypical pitfalls of coming out, issues of self-hate and suicide. There are a lot of similar storylines. What we wanted to do with Credence is actually paint a picture of incidental representation and really show a progressive way of doing that. Finally, I'd say in terms of the arts, especially for science-fiction, often it's so difficult to get people to fully understand a storyline, especially if it's something as far-fetched as science-fiction, that sometimes people just jump into the stereotypical roles because audiences immediately understand them. What we found in actually challenging that convention, no one's had a problem with jumping right into our characters, our plotline. Everyone has immediately understood and loved the fact it's not about any issues to do with LGBT rights. It's depicting an LGBT couple where it could be a straight couple.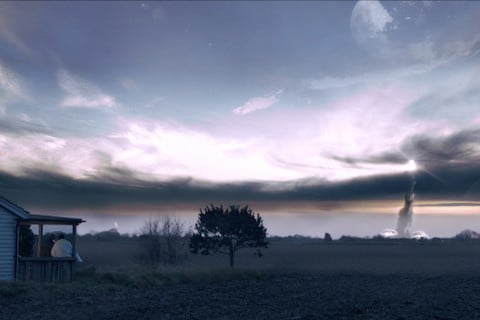 TR: Do you have early memories of pieces of art that inspired you to action?
MB: There were plenty of amazing films. I love science-fiction, and there were plenty of amazing science-fiction films that really helped shape my understanding of the world around me. The one that always comes to mind is Contact with Jodie Foster. It's actually not everyone's favorite film, but, for me, it really helped me understand or question the nature of the universe and human race and that kind of thing. I thought science-fiction is such a wonderful genre to play with the idea of understanding. Equally, there's a severe lack of representation within science fiction and other genres, in general. So what the team wanted to do was create something that was progressive, and then, hopefully, inspire more people to create more diverse and progressive cinema. As a child growing up there was not enough representation of LGBT characters within television and cinema.
TR: What's been the most exciting or surprising reactions to the film you've heard so far?
MB: One of the most surprising things that people have been saying is how much they immediately understood the characters. We only have half an hour, so it drops you into this family, and there's no set-up time. One of the most wonderful things is, obviously family and friends got a pre-screening before the premiere, and my mom actually sat there and she said, "You know, at no point did I ever watch this and think about them being different to any other couple." It's about normalizing LGBT characters, and it's about making them so you're not even thinking about it. And she said, "The only time I thought about it is when they kissed." That's the other piece of interesting feedback we've received. There is a kiss in it. We questioned whether or not it's suitable, but it's a crucial moment before a decision is made, and it's a kiss of trust. A key message behind the whole storyline is that a couple must come together in a moment that could tear them apart to actually get over it together. That's a lesson I've learned myself in previous relationships. Some things can tear you apart. If you only come together, you could get through it. That's why that kiss is important. It's also there, because a straight couple would kiss at that moment as well. It's just a moment where a couple would come together and give each other a kiss. But my mother said "It's the only moment where I thought,'Oh, that's challenging my perception of what I usually see,'" and that's good.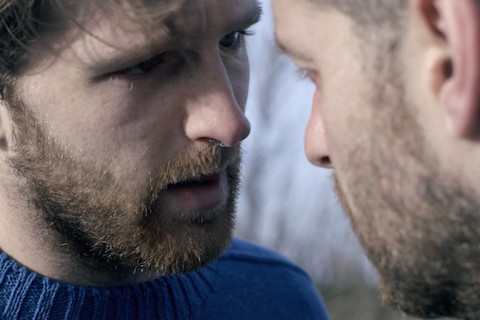 TR: You've spoken a lot about this idea of making Scott and John's sexuality a secondary element or incidental, which I think is interesting. There appears to be these two perspectives on LGBT characters: One is making characters' sexuality feel very incidental to make characters more relatable, and then there's the flipside that says there's a unique LGBT experience that should be told and celebrated for its uniqueness. It's an interesting balance for creators. How did you find that balance in your work?
MB: For me, the balance came naturally when the whole team looked at it as just making a film. We are creating a film. We're telling a story, and the characters are LGBT. Just like in life, many of my friends and myself, I don't, for example, go gay shopping. I go shopping. I don't get gay married; I get married. It's those kinds of things for me that's the message behind the film. Along with couples having to come together to overcome adversity, it's also about just normalizing gay characters. This is more of a normalization film than it is a challenging film, but I think in that very nature, it challenges people's perceptions about what it means to be LGBT, because it doesn't put the spotlight on their sexuality. I think the reason for that is that I've already seen such wonderful films that do that. I didn't want to do that again. I think there is plenty of that out there, and you only need to go to an LGBT film festival to see some wonderful films that really delicately and beautifully tell that story. This is something different. It's the very nature with the way I work. I always try to work with people and issues that need a spotlight on them and need a different perception to be told. Finally, I'd say I did feel as the team — I call them the team — but as the following has grown, I felt an immense sense of responsibility that we have to portray the characters in such a light that's going to be rewarding and inspiring and seen in the correct way. That in itself is so subjective. So there are bound to be people who watch the film who think we've gone down the wrong route. That's the beauty of cinema. You can go and see the same piece of art, and two people can have a completely different experience. Some people could like it, and some people can't. If you try to create something that everyone's going to like, then you're probably going to create some vanilla rubbish that really no one likes. Try to create something that has a specific target audience, and you'll hopefully create something that resonates.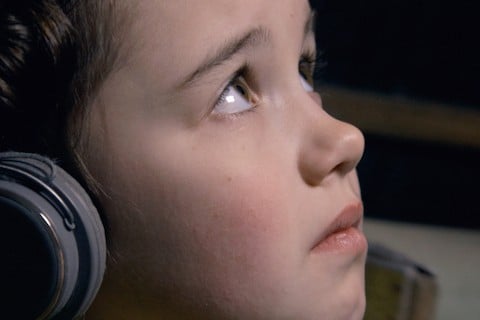 TR: We've talked about how Scott and John are portrayed, but watching the trailer for Credence, I was struck by their daughter. It reminded me a bit of the film in the U.S., Room, which is a very different story, but also showcases these parent-child relationships under extreme circumstances. Both films are using these child characters in powerful ways. I'd love to hear a little more how you're using the character of Ellie.
MB: For me, the whole idea behind the storyline was inspired by a couple of things. The first thing was the situation in Russia and many places around the world where children can be removed from their parents if they're LGBT because of certain laws. I did a lot of work around Russia and the Olympics. We made a big viral video that had about 2 million views for the organization All Out. That whole story inspired me, and I wanted to bring that to life on screen in a metaphorical way. The second thing is that I wanted to make it relatable to the wartime stories where you saw children were separated from their parents. It gave the perfect scenario to explore that connection between parent and child, and to know that you're making the greatest sacrifice of all. The final thing to inspire the story is that just as we were writing Credence, I was going through a break-up. There's this notion behind it that you got to go through something that's very painful, but over the other side, you know that it's going to be for the best. When you see the relationship in the storyline about how the couple had to come together to overcome adversity, and they had to let go of the child, it's almost like me leaving and having to do something that's for the greater good and is going to be better. There's a lot that's inspired the storyline. The power of the child itself, it just enables us to use a character to explore both the relationship between a father and his daughter, and there's a lot in the film about just that, but also it allowed us to normalize an LGBT family in what is a very abnormal scenario, which I think helps it be palatable to different kinds of audiences.
Credence is available now on Vimeo On Demand. You can watch it here.
[This interview has been edited and condensed.]