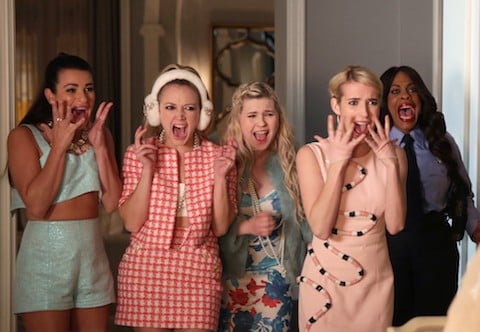 After last week's little diversion from the narrative thrust of Scream Queens, we're back on track to unmask the Red Devil killers terrorizing Kappa Kappa Tau.
This week's episode, titled "Mommie Dearest," clarified some of our earlier flashbacks to 1995 and propelled us toward a showdown between the Red Devils and their handler, Gigi (Nasim Pedrad). Plus, we also got another opportunity to ogle Nick Jonas' biceps.
All in all, a good night.
Let's discuss what went down in our SPOILER-y recap, below.
https://www.youtube.com/watch?v=tfEKLheIGxs
You know what's incredible? How many times do you think Jamie Lee Curtis has been asked over the years to recreate her mother's famous scene from Psycho? I guess Ryan Murphy has the magic touch, because tonight we get Dean Munsch in the shower a la Janet Leigh. Although the two scenes start the same, this one takes a rather unexpected (and ridiculous) turn.
Munsch is lathering up, and we cut to the Red Devil creeping into the bathroom. Here's the twist: When he tears open the shower curtain, there's no Munsch to be found/stabbed. Instead, she knocks him out. Another Red Devil and someone in an Antonin Scalia mask emerge to up the ante to a three-on-one attack. Jokes on them, because Munsch learned a lot about defending herself from a former lover who spent some time in Hong Kong fighting pits. As ridiculous as the reason may be, it was worth it to hear Munsch lecture the fake Scalia between punches: "The homosexual lifestyle is not destructive to the the fabric of American society! The Voting Rights Act should be authorized in every state! The Affordable Care Act does not require people to eat broccoli!" Her powerful punches (and politics) beat the attackers into retreat.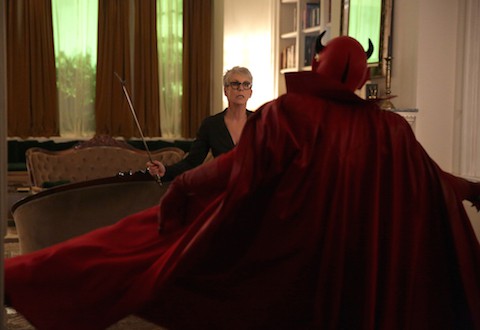 It also shakes the Dean up enough to inspire her to give Grace (Skyler Samuels) an assist uncovering the real identities of the killers. Munsch hands her a file with the name of the girl who died in the bathtub — Sophia Doyle. Wait a minute, Grace wonders aloud, that's not her mother's name.
Grace is still sort of a little convinced that she is the long-lost baby in this twisted tale. She brings the name to Pete (Diego Boneta), and, because he is just a college student and not a missing persons bureau, he can't find any further information based on this name alone. Instead, they decide to dig deeper into the past and see if that crazy painter lady in the asylum happened to cross paths with an insane hag stealing baby supplies from trash heaps and bodegas.
What do you know! She did! Here's a portrait of the hag! The hag who happens to look an awful lot like Gigi. And, also, here's another one! This time it's depicting the hag holding TWIN BABIES. Twist!
Armed with this new "evidence," Grace confronts Gigi. You don't need a degree from a fourth-tier law school in the Caribbean to know that a 20-year-old painting by an insane woman in an asylum is pretty flimsy evidence to pin murder on. Gigi wonders if Grace is just feeling a little sad that her daddy is spending so much time with a new lady in his life. I mean, after all, they are engaged now.
SAY WHAT?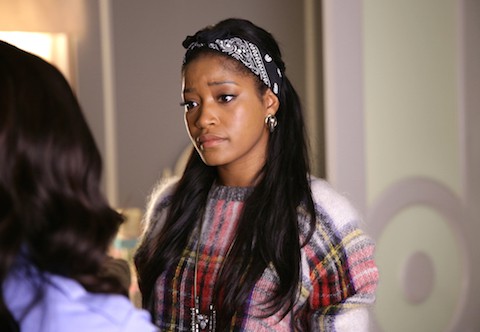 Of course, Grace and Pete aren't the only ones trying to unmask the killer(s) on campus. The Chanels' search for evidence against Grace and Zayday (Keke Palmer) has turned up empty. Chanel No. 3 (Billie Lourd) ups their efforts by offering Denise Hempfield (Neicy Nash) $3 million to find some clues. Denise has (conveniently) moved into the Kappa House, taking over one of the rooms vacated by a murdered sister. With $3 million on the line, Denise is on the case.
Her Scooby sense kicks in when she hears the candle vlogger, Jennifer (Breezy Eslin), mutter about killing someone. Of course, she didn't mean it literally (I think). She was just cheesed that the employee at the candle store cheated her out of the 22-for-20 deal. Denise asks her about Zayday, and Jennifer shares a story of Zayday recalling how a group of girls were mean to her in high school and she swore revenge on entitled little rich girls everywhere. Whoopsie, Zayday was just in the bathroom nearby and heard this whole convo. So now Jennifer and Denise are for sure on her bad side.
Later, Jennifer is recording her candle vlog when the Red Devil comes in and, PUN TOTALLY INTENDED, snuffs her out. The Devil turns her corpse into a giant human candle and leaves it on the dining room table.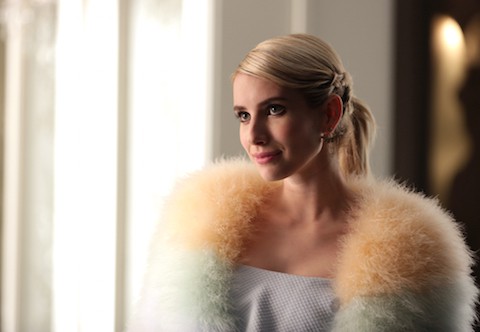 This, finally, is one murder too many, and Dean Munsch closes campus. This is the last straw for Chanel No. 1 (Emma Roberts). She increases the resources on the hunt for evidence, hiring two detectives from Scotland Yard to dig up dirt on Grace and Z. While they fail to find anything on the girls, they do find an awful lot on Grace's mom.
Turns out she wasn't the girl in the bathtub 20 years ago. Instead, she was the former KKT pres who demanded they leave the dying girl to go jam out to "Waterfalls." A real prize, that one. She hooked up with Grace's dad (Oliver Hudson) that night, and Grace was born nine months later. Her story doesn't end there, though. Grace's mom went on to amass a bunch of charges, including larceny, drunk driving and meth possession. Eventually she died in a fiery drunk driving accident.
Chanel Prime relishes sharing this information with Grace. Our floppy-hatted gumshoe does not take all this news well at all. She rushes to her dad to get the truth. He confirms the story. He even burned down their house to hide evidence of her mother's sordid past. It was all to protect her! (Also, according to him, Gigi bought her own engagement ring and he just went along with it for the wild sex it would lead to.) Grace storms out, Gigi saunters in and reveals her next move: Convincing Wes that Grace is losing it, and maybe she should be committed.
Back at the KKT house, Denise has upgraded herself from live-in security detail to full-blown house mother. She dresses in the Chanels' fashions and takes charge. She pulls Chanel Prime into the bathroom to tell her she needs to make right with Grace or else Denise will hop back into bed with Chanel's man.
Chanel No. 1 meets Grace for coffee and confesses that she too has a terrible mother. She posits that maybe the two girls are in each other's lives to work through their mommy issues together. How sweet.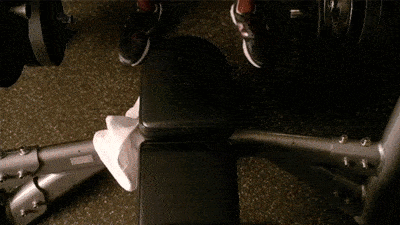 Elsewhere, a heavily-bearded Boone (Nick Jonas) is pumping some iron at the gym. He's got bushy hair and a bushy beard. It's such a wild look that he's actually mistaken for Joaquin Phoenix. He hops on a call with (presumably) the other Red Devil and tells him/her that they need to get rid of Gigi.
Careful there, Boone, Gigi doesn't seem that easy to outfox.
There were some great reveals and developments this week, including Grace's true parentage. However, I'm not sure I'm buying all of it. Her dad was acting just too strange. Like, he just casually burned down a house? He just agreed to get married to Gigi? It all seems a little too fishy, and there's definitely more to Dad than we know. Could he be in on the killings? Could the recent rash of murders that cropped up coinciding with Grace's arrival on campus be a result of her father doing whatever it takes to keep her safe from the clutches of KKT?
If the twins in the painting were both born in the bathtub that night, I'd say one of them is likely Boone. But who is the other? One of the Chanels? Or could it be two boys, just one in a pink blanket? It's not unlike Ryan Murphy to willy-nilly contradict himself or just make wild plot choices, so, really, it's anyone's guess!
Share your theories and thoughts on tonight's episode in the comments.