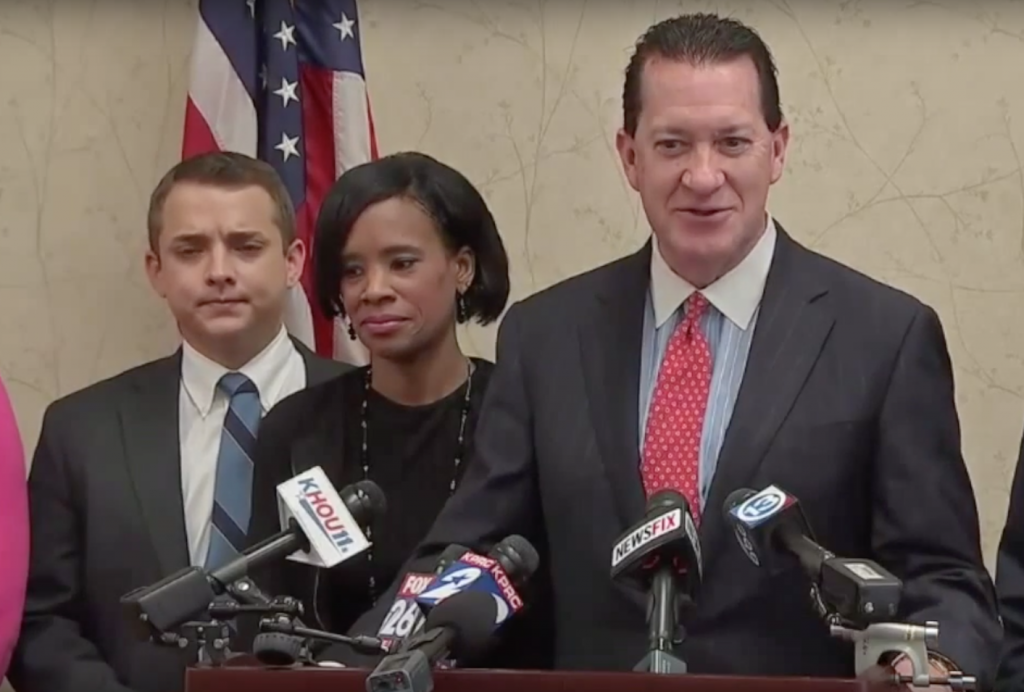 You had to know this was coming.
Last week, we told you how a school near Houston reportedly fired two staff members for refusing to accept a 6-year-old transgender boy as a boy.
Now, the staff members say they're planning a federal lawsuit against the school, and they're represented by the same creepy attorney who brought the case against Houston's Equal Rights Ordinance, one Andy Taylor (above, right).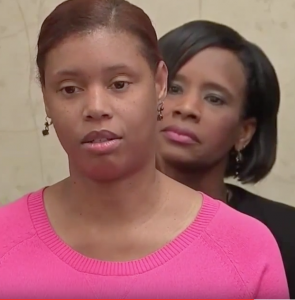 At a press conference Tuesday, Taylor announced that Madeline Kirksey (above, center) and Akesha Bogany Wyatt (right) are filing a complaint with the U.S. Equal Employment Opportunity Commission against Children's Lighthouse Learning Centers in Katy, Texas, alleging the school discriminated against them based on religion, gender and age.
From Project Q Houston:
"Transgenderism is a major and controversial issue for anyone, even adults," Taylor said at a press conference. "A little 6-year-old is not yet ready to make those types of choices. At that age, they are still trying to decide what kind of ice cream and what kind of breakfast cereal they enjoy. Their opinions on things change not only on a daily basis but an hourly basis. And so to empower and indeed to inflict upon a little 6-year-old girl the heavy decision of their sexual identity is nothing short of child abuse."
"Can you only imagine the reaction of a couple of dozen 6-year-olds when they learn that Sally all of the sudden is Johnny? They may think this is a cruel game of Opposite Day where whatever they feel like they can say they are the opposite gender of who they really are. Are we going to have little girls running into boys' restrooms and little boys running into girls' restrooms?" Taylor said.
Of course, this was the same tactic that defeated HERO, with opponents of the ordinance falsely claiming it would allow men to enter women's restrooms and prey on victims. But Kirksey and Wyatt maintain they were actually trying to protect the transgender boy, who happens to have gay parents:
"I want everyone to know that I took a stance, first off, because of my beliefs. I trust God. And secondly, I stood up for the protection of all the children, not jus the one. I felt it was my obligation after 26 years of doing this that I had to stand up for this child and to protect her at all costs, and if they took my job, I was fine with that," Kirksey said.
Taylor's co-counsel,  Briscoe Cain (above, left), said voters' decision to repeal HERO shows his clients, who insisted on notifying other parents about the transgender boy, were justified in their actions:
"With the recent defeat of the HERO ordinance, we could very positively say they would have wanted to have known what was going on and the Children's Lighthouse didn't want to do that," he said.
"This is not about being mean to potentially transgender children. You know we have all heard about the high suicide rates with LGBT kids or children struggling with gender issues. This is actually about protecting those children and standing up for them, defending them from being ridiculed and anything happening with that from taking place," Cain added.
Watch a report from KTRK-TV and footage from the press conference below.
<iframe width="476″ height="270″ src="http://abc13.com/video/embed/?pid=1077575″ frameborder="0″ allowfullscreen></iframe>