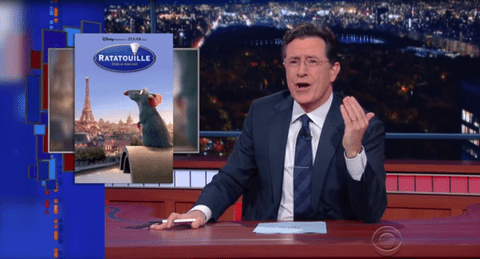 On Monday night, late night host Stephen Colbert devoted an entire episode of The Late Show to honor the people of Paris in the wake of the ISIS terror attacks on the city.
In opening the show, Colbert gave an emotional yet still comic tribute to all that France has contributed to the United States, giving us everything from Colbert's favorite way of kissing to "half the continent at a bargain price–no take backs guys!"
Colbert also addressed the outpouring of support people in the U.S. have been showing France on social media. Said Colbert, "People are trying to find anyway they can to show support, however small, to the people of France." For instance, he noted that at least a couple people are watching the Disney film Ratatouille to show support for France and Paris.
"Is that wrong? No. Is Ratatouille a French film? No. Is it a valid expression? Absolutely…Anything that is an attempt at human connection in the world right now is positive. Did you get up this morning and not try to kill someone? Then you're on the right side."
Watch Colbert declare that we stand with the people of France, below.