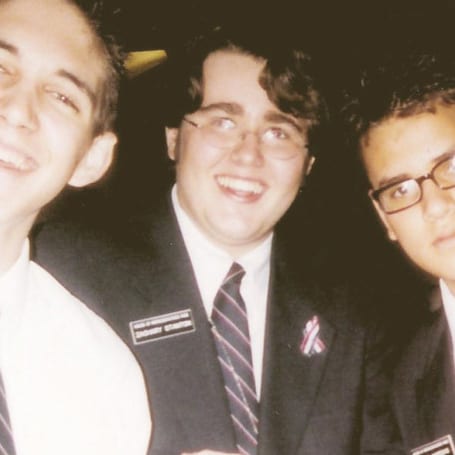 The former congressional page responsible for exposing Mark Foley's inappropriate and lewd advances towards teenage male pages during his tenure in Congress is speaking out for the first time about turning over evidence of Foley's wrongdoing to reporters back in 2006.
In a lengthy piece posted on Politico, Zack Stanton (above center) details the extent of Foley's lascivious advances towards congressional pages over many years.
Writes Stanton,
"I was a congressional page in 2001 and 2002. During that year, Foley sent sexual instant messages to at least three of my classmates. The messages weren't flirtatious—though some started that way—but out and out lewd. Two of those recipients continued to receive them well after their time in the page program had elapsed, extending into our college years."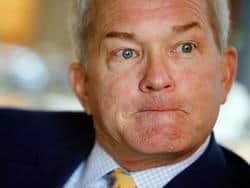 The majority of the inappropriate messages coming from Foley were sent over AOL Instant Messenger. Foley found himself incriminated because AIM saves transcripts of all its chats on a computer's hard drive. These transcripts were shared among the pages by those whom Foley messaged:
"We treated the messages like standard-issue, salacious high school gossip: inappropriate, sure, but nothing too out of the ordinary. When you're 16, you think of yourself as far older and more mature than you really are—especially when your daily routine involves a full-time job on the floor of the House of Representatives. You don't feel like a kid, and the adults around don't entirely treat you like one. It doesn't necessarily seem far-fetched that an adult would be interested in you.
Many of my classmates—myself included—knew that transcripts existed. In 2003, they were passed around between several of us—Can you believe he said this? This is crazy! I had the transcripts in 2003, read a few of the literally dozens of them, got uncomfortable, and deleted them. Over the next several years, as the conversations with Foley continued and the inappropriateness of his conduct deepened, the digital transcripts were shared again. In our class, if you hadn't read them, you had at least likely heard whispers of their existence."
When news of an inappropriate email between Foley and a page hit the press, it was slammed by Foley staffers as a "smear campaign." Stanton knew better:
"Somehow, I had never imagined that Foley's behavior was part of a pattern, a predatory approach, year after year, class after class, teenager after teenager; he got older, they stayed the same age. An ugly smear campaign? I knew that was a lie. And I knew that there was incontrovertible proof."
That proof was the AIM transcripts which were "full of explicit references to masturbation and penis size and attempts to arrange a real-life rendezvous."
The Mark Foley scandal would ultimately help force Foley to resign in disgrace, bring down the GOP in the 2006 mid-term elections (an unintended consequence, according to Stanton) and then Speaker of the House, Dennis Hastert.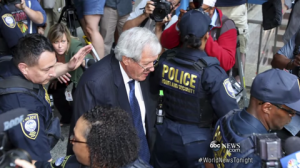 Hastert and other Republican leaders were indicted in the press for having known about Mark Foley's inappropriate behavior for years. Reflecting on recent revelations that Hastert himself allegedly molested teenagers when he was a high school wrestling coach before heading to Washington, Stanton wonders, "What if Hastert's neglect was not simply incompetence, but choice?"
"It is impossible not to notice that Hastert, a man once universally seen as above reproach, seemed to deny any advance knowledge about Foley's predatory behavior toward teenage boys. And it is now impossible for me to believe his testimony to the Ethics Committee—testimony that goes against what others told investigators—knowing that Hastert covered up his own decades-old sexual relationship with a boy, which began when Hastert was a high school wrestling coach. That boy was a teenager, a high schooler. He could have just as easily been a page."
You can read Stanton's entire piece over at Politico.