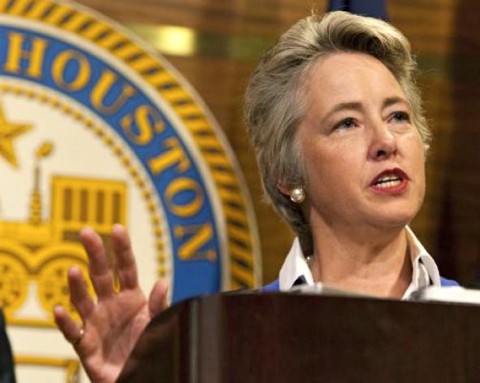 Houston Mayor Annise Parker said she's "absolutely melancholy" over her pending departure from office in early January after six years as chief executive of the nation's fourth-largest city.
Parker, who was re-elected twice but is now term-limited, became the first openly LGBT person elected mayor of a major US city in 2009.
In an interview Monday with KHOU-TV, Parker recalled how she initially bristled at questions about her sexual orientation from the national media. But she eventually learned how to use those questions to transform Houston's national image.
"It gave me an opportunity to talk about the coolness factor of Houston," Parker said. "And all of a sudden, the West Coast media and the East Coast media here in the United States began to pay attention to Houston in a way they never had before. It's not an accident that Houston began to pop on all these 'best of' lists. It's not that we suddenly became the best of anything when I became mayor, it's that people started noticing."
Parker also conducted a live chat Monday with The Houston Chronicle, in which she responded to questions about the Nov. 3 defeat of Houston's Equal Rights Ordinance. Interestingly, Parker said she considers the repeal of the city's red light camera initiative, and not HERO's defeat, to be her biggest failure as mayor.
One person accused Parker of going "off the rails in a rather nasty tirade" after the HERO vote, and asked whether she's "always that petty" when she doesn't "get [her] way."
"The vote against a non-discrimination ordinance similar to that of 200 plus cities and 17 states did not reflect the tolerant, welcoming attitude of the vast majority of Houstonians," Parker calmly responded. "This is an issue that will return because it is something that many conferences, corporations and conventions ask about when they make their location decisions."
Another person asked whether it was a waste of taxpayer money for the city to defend the ordinance in court, given Parker's recent statement that it would have been defeated at the ballot regardless of the pro-HERO campaign's strategy.
"Once the state Supreme Court ignored lower court rulings and a jury decision in favor of the City and forced this on to the ballot, there was no time to mount an effective truth campaign to counter the lies and distortions of the opponents," Parker wrote. "I will not apologize for doing the right thing for the 15 categories of Houstonians who would have benefited from the ordinance. Including veterans, pregnant women, and racial and ethnic minorities.
"My regret is that the pro-HERO campaign gave logical, calm arguments and largely ignored what we considered a ludicrous belief that the ordinance would turn all bathrooms and locker rooms unisex," she added. "Fear isn't logical and it's hard to defeat."
Regarding her future plans, Parker said she's applied for a 2016 fellowship at Harvard University's Kennedy School of Government, but has not yet been formally accepted. If she is, the fellowship would last for only three months.
"I'll be back," she told KHOU.
Parker has said she's interested in running for higher office, including possibly governor. In Monday's live chat, she said she believes an openly LGBT candidate could get elected statewide in Texas, but for now, the person would have to be a Republican.
"I think the same characteristics that have made me successful in Houston would play well statewide," she said. "Tell it like it is, honest and straightforward is a Texas value." 
According to KHOU, no one has been elected to higher office after serving as Houston mayor in recent history.
"I'm afraid I may have had the best political job I'm ever going to have," said Parker, who'll be 60 in May. "And I don't know what comes next, which is a little bit liberating but very scary." 
Watch the interview with Parker, below.