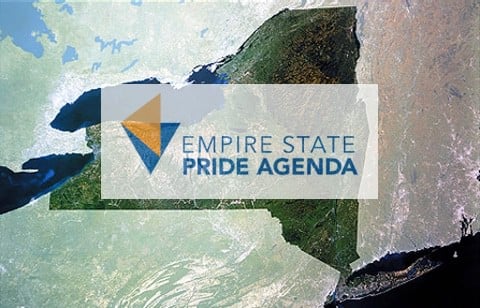 New York's largest LGBT advocacy group, Empire State Pride Agenda, is shutting down after 25 years, it announced today.
Wrote the group in a press release:
After 25 years of groundbreaking advocacy and service to New York's LGBT community resulting in over 100 state legislative and policy victories, The Empire State Pride Agenda, New York's statewide lesbian, gay, bisexual, and transgender (LGBT) civil rights organization, will conclude major operations in 2016. In the coming months, the Pride Agenda will identify aspects of its policy work to transition to partner LGBT organizations. The organization will maintain its Political Action Committee (PAC) in order to play a continuing role in electoral politics.
The announcement follows unanimous votes earlier today by the Boards of Directors of the Empire State Pride Agenda Foundation, Inc. and the Empire State Pride Agenda, Inc., to wind down their operations in first half of 2016. The Pride Agenda's third corporate entity, the Empire State Pride Agenda Political Action Committee, will continue as part of this process.
The Boards' decision comes on the heels of securing the Pride Agenda's top remaining policy priority – protecting transgender New Yorkers from discrimination in housing, employment, credit, education and public accommodations – in the form of new regulations announced in partnership with Governor Andrew M. Cuomo at the organization's Fall Dinner on October 22, 2015.
Read the full press release HERE.
Empire State Pride Agenda has maintained a robust presence in almost every Albany debate involving L.G.B.T. issues in New York, and spent some $37,000 on lobbyists' fees in the first six months of 2015. Founded in 1990, as the nation and state grappled with the AIDS epidemic, the group counts dozens of legislative successes over its two and a half decades of existence, including hate-crime legislation, housing, extension of medical benefits and anti-discrimination laws and policies. Those victories were shared by other groups in New York and around the nation, and may have reached their zenith in 2011, when the New York State Senate passed same-sex marriage in a dramatic vote.
Said New York Governor Andrew Cuomo:
"New York would not be the State it is today without the Empire State Pride Agenda. For decades, the Pride Agenda has been a premier champion of the LGBT community in New York – fighting injustice, securing and protecting equal rights, and advancing the principles of dignity and acceptance for all. Over the years this organization has made a difference in – and no doubt saved – countless lives. Together we have restored New York's status as a progressive beacon for the nation, from securing marriage equality to helping ban transgender discrimination and bringing the end of the AIDS epidemic within reach. I am honored beyond words to have fought alongside the Pride Agenda and watched its successes over the years. Its impact will be felt for generations to come."