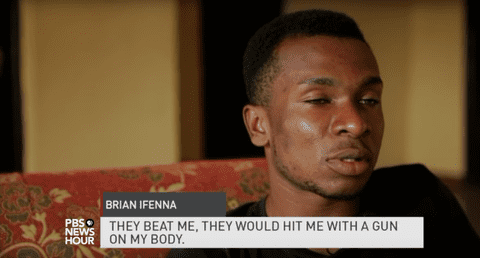 A new report from PBS News looks at the dire conditions facing gay men living in Nigeria. As journalist Nick Schifrin reports, gay men in the African nation are subject to beatings, arrest, torture and even death because of local religious laws, anti-gay sentiment and the national laws which make same-sex marriage and gay rights activism illegal.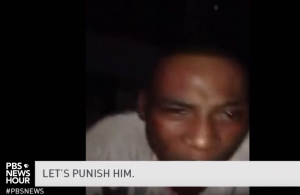 Writes PBS News Hour in their YouTube posting,
"Nigeria made same-sex marriage and gay rights activism illegal last January. Since then, gay Nigerians say abuse and extortion have become commonplace by state-sponsored vigilantes, police and public mobs."
Schifrin delves into the deeply homophobic culture in Nigeria that views homosexuality as "evil", speaking with Christian and Muslim religious leaders who condemn homosexuality. Said one Christian minister, "The gay man knows that because of his practices, he has no rights equal to another person." Schifrin travels to one section of Nigeria where vice squads patrol the streets at night with wooden canes to beat and attack men they find and suspect of being gay, using Sharia law to justify their violence.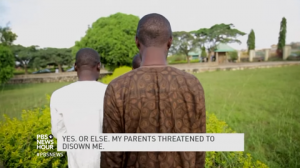 Gay men both Christian and Muslim, who have been targeted by mobs and police shared their stories with PBS about being brutally targeted because of their sexuality.
Says one man, "You can't display your sexuality. So…you just hide it." The fear of being disowned by one's family is common among gay men in Nigeria. One man even says his father would prefer to have no son than to have a gay son. Another was forced to marry a woman. "I'm forcing myself to be something that I'm not," he says.
Meanwhile, US officials say they don't push the issue of LGBT rights with government officials because they fear such actions would create a backlash and increase anti-gay fervor.
Despite the many threats, some gay men in Nigeria are fighting for their rights. Said one activist, "If I don't fight, who will?"
Watch the harrowing report from PBS, below: