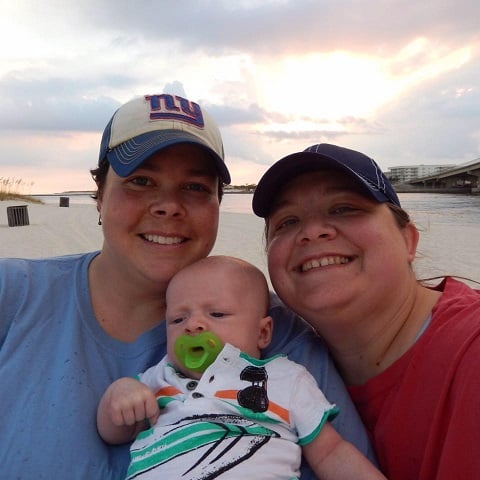 Despite a Tuesday ruling in Arkansas ordering that same-sex couples be listed on their children's birth certificates, the state is not yet extending that right to anyone apart from the plaintiffs in the case.
Following the June Supreme Court ruling striking down same-sex marriage bans nationwide, three female couples challenged the Arkansas Health Department's Vital Statistics Bureau's refusal to identify them as adoptive or biological parents.
However, on Wednesday, Little Rock couple Jennifer and Tracee Gardner-Glaze (above) were refused an amended birth certificate for their 4-month-old son.
Jennifer Gardner-Glaze said:
"In Arkansas, if a man and a woman are married, and they use a sperm donor and the child is born, the husband is automatically put on the birth certificate, no questions asked. That's the difference. But if we're a same-sex couple and we're married, and we use a sperm donor and our son is born, I cannot be put on the birth certificate."
According to The Huffington Post, Arkansas Attorney General Leslie Rutledge will be appealing Fox's decision and is advising state officials to not amend birth certificates.
A Rutledge spokesperson said  that in order to avoid "confusion and uncertainty created by other parts of the order, the Attorney General will ask the Arkansas Supreme Court to stay the decision and will appeal."
(Image via Facebook)