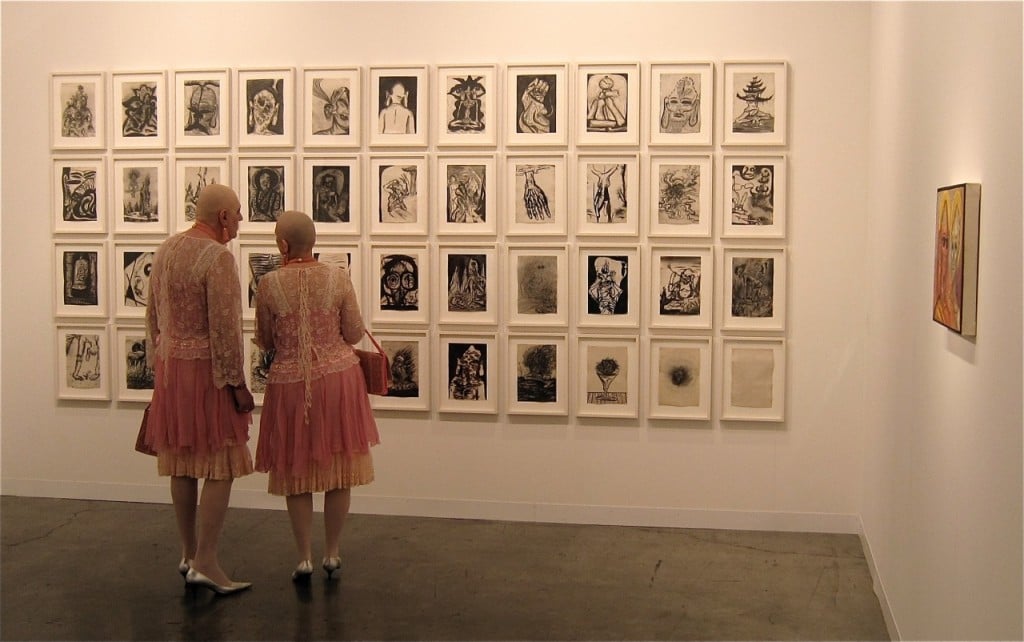 It's not too late to experience the world famous art show called Art Basel, which has completely invaded Miami through December 6. Here's ManAboutWorld's take on it from our recent issue. And check out these cool photos from our Instagram account. You don't have to be an art expert; you just have to appreciate artistic expression and warm weather. If you can't go this year, start planning for Art Basel 2016!
Art Basel returns December 3-6 to take over Miami for the art world's most star-studded event. Now in its 14th year, the show will feature 4,000 artists from 32 countries and represent  267 galleries, including the Mary Boone Gallery in New York; Casas Reigner in Colombia; the Thomas Dane Gallery in London; Frank Elbaz in Paris; Elvira Gonzales in Madrid; and Long March Space in Beijing, to name (more than) just a few. Local Miami galleries' Fredric Snitzer, a veteran dealer now based in downtown Miami, and Michael Jon, a young dealer working out of Little Haiti, will be representing Miami in this international art extravaganza. Private, celebrity-driven parties reign, but even if you're not on the A-list, you can enjoy the spectacle and bask in the labyrinth of art presented over the weekend. In addition to the main event at the convention center, other fairs, museums and galleries have gotten in on the action, turning the entire city into a huge art extravaganza. Buy advance tickets online. Students, seniors and others with extenuating circumstances can apply for discount admission.
EVENTS, SHOWS AND HAPPENINGS TO NOTE

ART FAIRS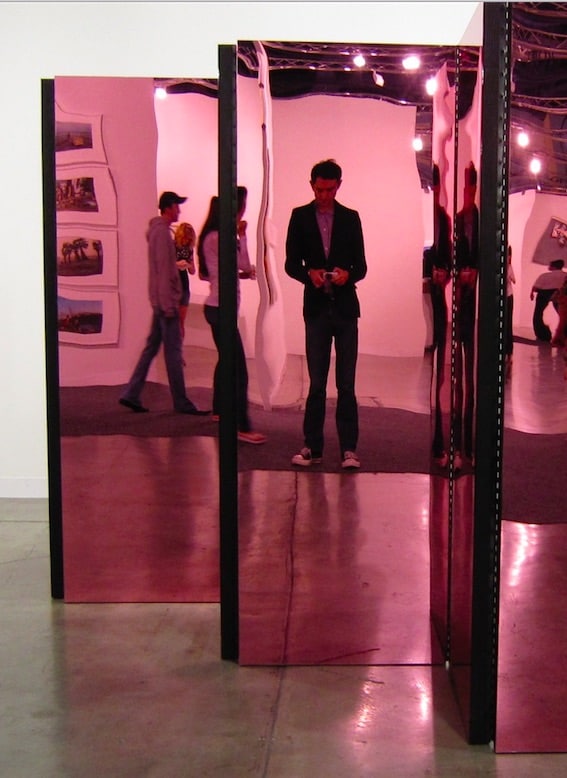 Scope, which left midtown for SoBe two years ago, is setting up shop on Ocean Drive at 46th and Collins, for its 15th-anniversary show. The show will feature three Miami galleries: Emerson Dorsch, which recently closed its doors in Wynwood, a neighborhood it helped establish; Art Lexïng, which concentrates on contemporary Chinese art; and Mindy Solomon Gallery, soon to leave Wynwood for the newest art hot spot, Little River.
Design Miami, which sits steps from the convention center, will bring only the poshest Art Basel-goers to suck down flutes of champagne while peeping ever so discreetly at P. Diddy. Every year spectators flock to see its signature entrance designed by world-class talent. The plan is a tightly guarded secret, but it's a good bet it'll be large and captivating.
Other fairs that have found homes on la playa include Aqua, Art on Paper, Fridge Art Fair, Ink Miami, Miami Project, and Untitled. Farther north, at beachfront spots between 73rd and 75th streets, will be Satellite, which will present works of art, music, new media, and "technology activations" by progressive organizations such as White Box and artists like Pussy Riot and Clifford Owens.
Across the Biscayne Bay, downtown Miami has some pretty major satellite events as well: Art Miami, Context, Miami River Art Fair, Pinta Miami, Red Dot Art Fair, Spectrum Miami, and X Contemporary are all set to return and worth a look.
MUSEUMS
The museums around town are primed to unveil their biggest shows of the year for Basel. ICA will be showing two female contemporary artists: Iconic video artist Alex Bag and photographer Shannon Ebner, Pérez Art Museum Miami will celebrate African cultural diasporas of the Caribbean with Jamaican artist Nari Ward's important exhibition, "Sun Splashed." He will present humongous sculptures, which are rarely shown because of their scale, including one that is actually room-size.
Patricia & Phillip Frost Art Museum will present Hans Hofmann's literal "Walls of Color" and three other shows: Weird, Wild and Wonderful: The Second New York Botanical Garden Triennial Exhibition will include works by botanical artists who turn ugly plants into pretty pictures; Blurred Borders is a video by Carola Bravo; and the pointillism of Ramon Espantaleon in The Temptation.
Miami Beach's Wolfsonian will exhibit Polish-born Feliks Topolski's An Artist on the Eastern Front, his take on 1941 USSR. Margin of Error will offer visuals of modern engineered catastrophes.
PARTIES
It's almost impossible (and somewhat pointless) to try and round-up the parties of Art Basel. Any attempt to do so is a misunderstanding of the event's fluid, spontaneous spirit. Chances are, you'll arrive at a gallery with a group of friends, get chatty with some strangers and suddenly you're at some crazy, random party where you won't know anyone, but you'll all be best friends come, say, 3am.
So don't come looking to us for answers. Basel is chaos, in the best possible way. But if you're one of the those types that needs just a little guidance, we have some suggestions to start your search, but be sure to check in with the hotels and clubs for dates and times, as they are subject to change.
The Treehouse and The Electric Pickle have been known for years to throw Basel parties on the beach and in Wynwood. While they don't have actual dates planned as of press time, they're always a great place to start. The Fountainbleu Hotel and its club LIV, are also Basel party mainstays.
A NOTE ON ACCOMMODATIONS
During Art Basel (and at many other peak times of the year), the hotels closest to the action will charge sky-high rates and offer scant availability during the event. However many smaller hotels and Airbnb listings, especially those a little farther away from the event, may be available for as low as $150.
For Miami-specific recommendations, even more gay travel inspiration and trip-planning information and suggestions for destinations, tours and events download ManAboutWorld's latest issue. Start planning your next trip now!
This weekly travel column is brought to you by ManAboutWorld, an immersive digital gay travel magazine for iOS and Android devices from Ed Salvato, Billy Kolber, Kenny Porpora, and nearly 75 Global Correspondents. For more recommendations from ManAboutWorld's global gay experts, download our App. There are FREE guides and a 10-issue-per-year subscription-based magazine.
Photos: Chris Goldberg via Flickr.