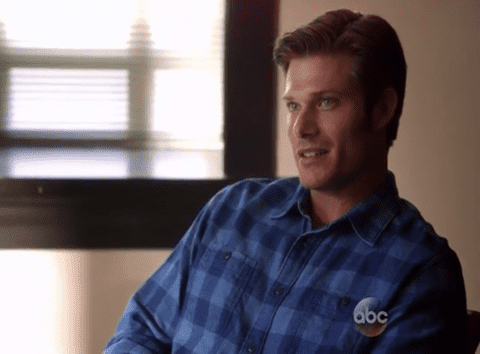 A storyline on this week's episode of ABC's country music drama Nashville centered on gay country singer-songwriter Will Lexington (Chris Carmack) sent a right-wing blog committed to "exposing & combating liberal media bias" into a tizzy.
Conservative site NewsBusters declared that "the message" of Wednesday night's episode was, "If you like country music, you're probably an anti-gay bigot." NewsBusters reached this conclusion because Lexington questions whether he wants to write a song for a right-leaning, religious country singer who is not known to be a friend to the LGBT community.
The singer, Wade Cole (Josh Coxx), summons Lexington for a meeting to discuss business. He apologizes for not meeting Lexington at his home, where he prefers to write, but says his "wife's got renovations going on" and his "kids are off school this week." Lexington says he's surprised Cole wants to work with him given the fact that he's openly gay. NewsBusters writes that Lexington's not able to "comprehend why an outwardly religious singer might want to work with a gay songwriter." Maybe it's not so much that he can't comprehend the 'why' so much as he's suspicious of the 'why,' we might say.
Cole goes on to tell Lexington that he has no problem with him and his "lifestyle" but his wife does:
"I'm not gonna lie. You've chosen a lifestyle that most of my fans have trouble with. Frankly, my wife does, too. She's got this big charity of hers, and most of her donors wouldn't like seeing me with someone… It'd be an endorsement — that's how they'd see it anyway — of something they don't approve of…Personally, I don't have a problem with it, but at the end of the day, I got to answer to the missus."
Things escalate when Lexington learns that Cole was a major supporter of Proposition 8.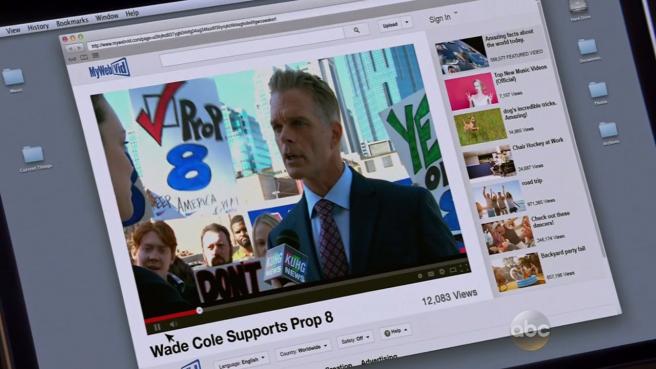 Lexington vents to his friend,
"Wade Cole is worse than a bigot — he's a hypocrite. His wife runs one of those, um… 'Traditional value'-type organizations that wants to round up anyone they disapprove of, stick us on an island somewhere. I mean, my publisher says I'm a fool if I say 'No,' but I can't work with the guy."
This is where NewsBusters gets even more worked up:
"Just in case you couldn't figure out the real reason Cole didn't invite Lexington to write at his house, Nashville delivers a scene where Lexington finds out that Cole was a supporter of Prop 8. Never mind that Proposition 8 was supported by a majority of Californians in 2008, Hollywood is still seeking vengeance and continues trying to hound supporters out of polite society."
The site adds, "if you support traditional marriage, you obviously want to round up homosexuals and exile them from the country." Just to be clear, the idea that there are "traditional value" types who want to exile gays to an island is not something the writers of Nashville just made up. Republican Congress Louie Gohmert of Texas has twice said that he wants to exile homosexual couples and heterosexual couples on an island to prove which ones "nature favors."
NewsBusters concludes,
"Back in the real world, I doubt the average music fan can tell you the name of the songwriter who penned their favorite artist's latest anthem, much less his sexual orientation. Most of them are probably more concerned with the music. To paraphrase Laura Ingraham, shut up and write! "
The average music fan might not care about the sexual orientation of the songwriters of their favorite songs. But the average songwriter and average human probably does care if they're supposed to work with a bigot who sees them as a second class citizen. So maybe, NewsBusters, to paraphrase The Dixie Chicks, Lexington isn't ready to make nice.
But let's hope he's still willing to make out.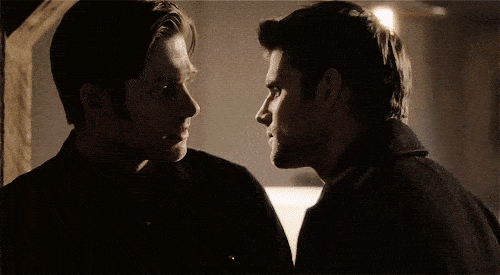 Watch videos showing the above mentioned scenes from this week's episode, below: