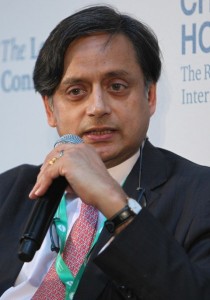 A pro-LGBT Indian lawmaker has launched an online petition to build support for decriminalizing gay sex.
Congressman Shashi Tharoor previously introduced a bill into India's Congress which would have amended the country's antiquated ban on homosexuality, a leftover from British colonial reign. That ban, struck down in 2009, was reinstated in 2013 by India's Supreme  Court. Tharoor's bill was soundly defeated by the Indian Congress in a 71 to 24 vote.
After the defeat, Tharoor told AFP:
"This is not about homosexuality as the opposition has caricatured it. It is about freedom, justice, equality of treatment and upholding the values enshrined in our Constitution. This law is from the 1860s and it has no place in the 21st century nor in people's private lives or in their bedrooms."
Tharoor is reiterating that sentiment in a new Change.org petition he launched to build momentum in favor of overhauling the gay sex ban. He hopes the petition will convince India's Prime Minister to join the fight.
Declaring that he's "not giving up" in his battle against discrimination, Tharoor proclaims:
Your sexual preferences, sexuality, and partner should be your choice. Unfortunately Indian law doesn't think so […]
Section 377 should be amended so that all consensual sex between consenting adults irrespective of gender and sexuality is legal. But it should not legitimise forced sex, pedophilia or pederasty.
Sign my petition and help me show the Prime Minister that Indians want Section 377 to be amended.
Section 377 is a British relic, drafted in 1860 and based on outdated Victorian morals. It has no place in a modern nation like India. […]
Sign my petition and help me build support to amend Section 377. If enough of us speak up, we can make the Prime Minister rethink Section 377 of the Indian Penal Code, 1860.
Read the Change.org petition HERE.