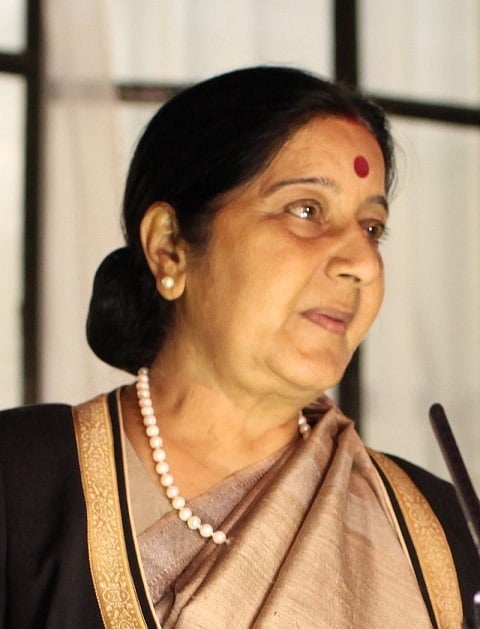 Lawmakers in India are planning to ban foreigners, single parents and same-sex couples from using the country's surrogacy services in order to prevent the exploitation of poor women.
Foreign Minister Sushma Swaraj (above) said yesterday that under the "complete ban on commercial surrogacy", only couples who have been married for at least five years could seek a surrogate. The surrogate would have to be a close relative of the couple.
Surrogacy (Regulation) Bill, 2016 will regulate surrogacy across India & prohibit commercial surrogacy. https://t.co/OtgYZGCB67

— Narendra Modi (@narendramodi) August 24, 2016
According to NBC, in recent years India has become a popular low-cost destination for people wanting to have children using surrogate mothers. However, many of the surrogates are paid only a small percentage of the money that is paid to clinics.
BBC report on India banning commerical surrogacy avoids mention that the ban is driven partly by homophobia https://t.co/X2KI7ASZVb

— Sunny Hundal (@sunny_hundal) August 25, 2016
Swaraj said that current practises have led to exploitation and abuse. She cited two cases where a couple took home one child from a twin birth and another left a disabled baby with the surrogate.
Here's the good thing about the #SurrogacyBill – the poor will no longer be exploited https://t.co/80Hvs4ieqc

— Catch News (@CatchNews) August 25, 2016
Last year, Indian embassies were instructed to not grant visas to foreigners who planned to come to India to engage a surrogate mother. The home ministry said children born through surrogacy to foreign couples would not be allowed to leave the country.
No, India's new #SurrogacyBill will drive surrogacy underground & exploit poor women worse than before. https://t.co/WjjqBz3lTA

— Rita Banerji (@Rita_Banerji) August 25, 2016
A 2012 United Nations report found that there are around 3,000 fertility clinics in India. The surrogacy business to be worth around $1 billion a year.
Watch a NewsBeat report below.
(Image via Wikipedia)
https://www.youtube.com/watch?v=nBCKnsn-Tf4