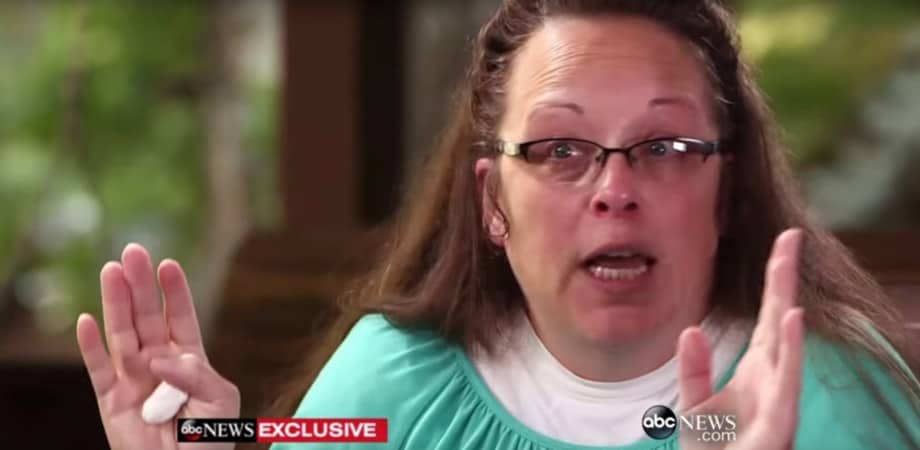 In a new interview reflecting on her year in the limelight, Kim Davis says that she thinks it's "ironic" that God used her as pawn in his game to "defend marriage" considering how spectacularly she failed at marriage–having been married four times and divorced thrice.
Speaking with the AP, Davis defended her decision to deny marriage licenses to same-sex couples saying, "No one would ever have remembered a county clerk that just said … 'Even though I don't agree with it, it's OK. I'll do it.'"
Of her legacy, Davis hopes, "If I could be remembered for one thing, it's that I was not afraid to not compromise myself."
Davis added that she believes it was because she had failed at marriage in the past that God decided to use her to defend it:
"How ironic that God would use a person like me, who failed so miserably at marriage in the world, to defend it now," Davis said Tuesday. "The Lord picks the unlikely source to convey the message."
The couple who unintentionally launched Kim Davis into the national spotlight after being degraded and denied a marriage license by her maintains that Davis is a bigot:
"It makes me uncomfortable to hear people using God … to justify their bigotry," said 39-year-old David Moore, who with now-husband David Ermold sued Davis in federal court. "I don't see how that makes her a victim or a hero. She really just had a job to do, and she just needs to do her job."
Davis recently scored a major victory when newly elected Kentucky Governor Matt Bevin announced he would remove county clerks' names from the state's marriage licenses, a move Davis and her attorneys from the anti-gay group Liberty Counsel fought hard for.
Bevin famously visited Davis the day she was released from jail after violating Federal Judge David Bunning's order to do her job and comply with the Supreme Court's ruling on gay marriage. Davis doesn't believe that her connection to Bevin helped galvanize support among Republicans in the state to support him at the polls. Said Davis, "I think he truly won [the gubernatorial race] on his own merit. I wouldn't take anything away from him."
Davis will face re-election for her job as Rowan County clerk in two years but will not say whether she plans to run. "A lot of things could happen between now and then," she said.
Davis does say, however, that she has no aspirations for higher office, "If I were a politician, I would probably jump on that and grab it and growl. But I'm not a politician," she said. "I very much enjoy my job."