Former Navy SEAL Kristin Beck, who took part in dozens of missions during her time in the SEALs including the assault on Osama Bin Laden's compound in Pakistan, revealed in an interview with GQ that one of the toughest moments in her life was climbing the ladder to her neighbor's boat, while clad in a dress, makeup and blush, to reveal to her fellow servicemen that she (then Chris Beck) liked dressing as a woman.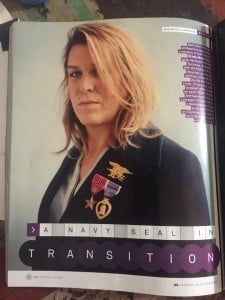 It was that moment that Beck began revealing to the world that she's transgender. Beck's interview with GQ chronicles her transition, from ditching school at the age of five to wear her sister's dresses to coming home from deployment to a boat she fixed up, where she would store her masculine clothes off-shore and swim to her house boat to put on dresses, wigs and make-up to decompress from stressful missions.
For Beck, who powered through missions with busted kneecaps, broken vertebrae and gone undercover in Taliban camps, the scariest things she ever did were quite personal:
"One was parachuting out of a plane into the ocean with so much gear I was pretty sure I was going to drown, but knowing it was my job to do it, so I couldn't back out. The other was walking out of the house in a dress. I just wish I was prettier! Then I wouldn't just be a dude in a dress.
"…Yeah. Like, I remember once I was at a bar and a dude was laughing at me and getting in my face. And I was like, 'I'm taking my shoes off, and then I'm going to start fighting. And if I do that, I'm gonna hurt you real bad. And it's gonna be a dude in a dress hurting you real bad, and your friends are over there watching.' When I turn that on, people can just tell not to mess with me. So I let him walk away and pretend that I backed down."
The interview with Beck reveals that her transition is one of the few things that has brought her peace since leaving the SEALs. She has had bouts of anger as well as odd habits such as soundly sleeping on the bare floor of a garage or aimlessly riding her motorcycle, that she built herself, all night long.
Beck's friends reveal that she's always had a headstrong, confrontational personality, something that can be seen today in her criticism of fellow trans servicewoman Chelsea Manning (she says Manning uses her gender identity for personal gain) and of Mike Huckabee, saying she's "twice the man he'll ever be."
Beck appeared on TODAY earlier this year to discuss her run for Congress (she's running a primary challenge to Democrat Steny Hoyer) along with her account of what it's like to transition while in service. Watch Beck's interview, below:
(Photo via Facebook)