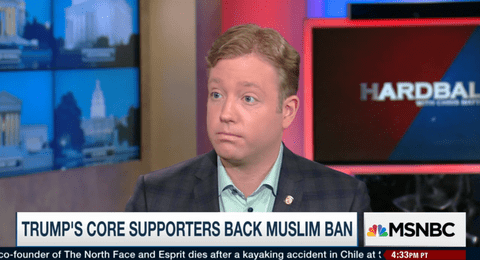 On Hardball with Chris Matthews yesterday, Log Cabin Republicans President Gregory T. Angelo defended Donald Trump's record on gay rights saying Trump is the most "pro-gay" candidate among the current crop of Republican presidential hopefuls.
Trump's record on gay rights came up during a discussion on Trump's proposal to ban all Muslims from entering the United States. Matthews put it to Angelo, "Suppose he said no gays could come in [sic] the country?" Angelo replied that Trump "wouldn't say that":
"Donald Trump – your viewers might not believe it – is actually the most pro-gay–He supports amending the Civil Rights Act to include sexual orientation non-discrimination. He's been to a gay wedding, he's friends with George Takei. His record doesn't bear out that that would be an enemy to the gay community."
Matthews pressed Angelo on Trump's stance on Muslims, asking, "How do you explain his tolerance on orientation, but not tolerance on ethnicity?" Angelo replied by blaming Trump's plan on–you guessed it!–President Obama. Because everything is his fault:
"What [Trump's] doing right now is playing to people's fears, Chris. And that when you talk about the numbers that are coming out right now about all these Republican voters who are supporting Trump's plan, a fanciful plan that could never be realized, keep in mind, this would never happen, but to ban all Muslims from this country. They're not so much, in my estimation, supporting Trump's plan, as they are the lack of plan and vision from President Obama."
Angelo went on to call Trump's plan "un-American" and "un-Republican," saying he wouldn't be "an apologist for Trump in that regard," though was happy to play that role regarding Trump's stance on gay rights:
"I'm not being an apologist for Trump in that regard, but I would just point out that if we Log Cabin Republicans are for a more inclusive Republican Party, it doesn't begin and end with members of the gay community. In fact one of the most challenging things, if you're fighting for equal rights, it's easy to fight for your own equal rights, right. Fighting for others is more difficult."
Speaking of equal rights, it should be noted that Donald Trump does not support the equal rights of gay couples to get married. Maybe the Log Cabin Republicans have forgotten about that.
Watch Matthews interview Angelo, below: