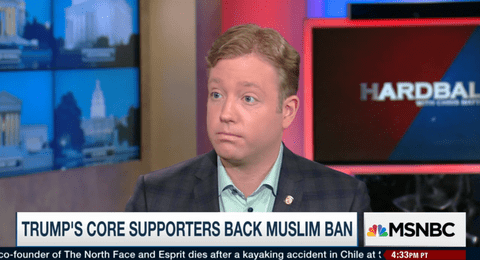 Gay GOP group Log Cabin Republicans has requested "an audience" with Republican presidential front-runner Donald Trump to discuss throwing the New York billionaire their official endorsement.
"He is one of the best, if not the best, pro-gay Republican candidates to ever run for the presidency," said Gregory T. Angelo, president of the Log Cabin Republicans, an advocacy group for LGBT Republicans. Trump would do no harm on same-sex marriage, Angelo said, and has a "stand-out position" on non-discrimination legislation. […]
[The Log Cabin Republicans] have asked for an audience with Trump, and in January they are due to begin discussing their criteria for endorsing whomever the GOP nominates for president. Angelo qualified his praise for Trump's record with the caveat that he's been polarizing on other issues. That, Angelo said, "is something that should at least come into the discussion."Since 1992, the Log Cabin Republicans have endorsed or withheld their endorsement from Republican nominees based on key issues. But Trump might be able garner its support.
Reuters adds that it might be Trump's lack of focus on LGBT issues that makes him a potential favorite among gay Republican voters in an election year where many GOP candidates are virulently anti-gay.
As far as the Log Cabin Republicans go, Gregory T. Angelo has trumpeted Trump's so-called "pro-gay" record before, defending his record on LGBT rights on Hardball last week.
Angelo told host Chris Matthews,
"Donald Trump – your viewers might not believe it – is actually the most pro-gay–He supports amending the Civil Rights Act to include sexual orientation non-discrimination. He's been to a gay wedding, he's friends with George Takei. His record doesn't bear out that that would be an enemy to the gay community."
Angelo also went on to say that "Log Cabin Republicans are for a more inclusive Republican Party" which "doesn't begin and end with members of the gay community." He added, "If you're fighting for equal rights, it's easy to fight for your own equal rights, right." "Fighting for others is more difficult," Angelo said.
Those comments would suggest the Log Cabin Republicans would have a bone to pick with Trump over his repeated xenophobic and Islamophobic remarks. We'll have to wait and see if Angelo and his Log Cabin colleagues address the broader issue of "equality and inclusion" should they be granted an audience with Trump.
Meanwhile, former Bill Clinton adviser and prominent gay rights activist Richard Socarides lambasted Trump as "the least supportive of diversity and inclusion":
"The truth is if you are a Republican who is either gay or a Republican for whom gay rights are important, there is nobody in that field who is attractive to you…Trump, because he was part of the New York business community and obviously knew a lot of gay people, probably has supported gay rights measures as one-offs. But at the core of the gay civil-rights movement, are ideas of diversity and inclusion. Of all the candidates he is probably the least supportive of diversity and inclusion."