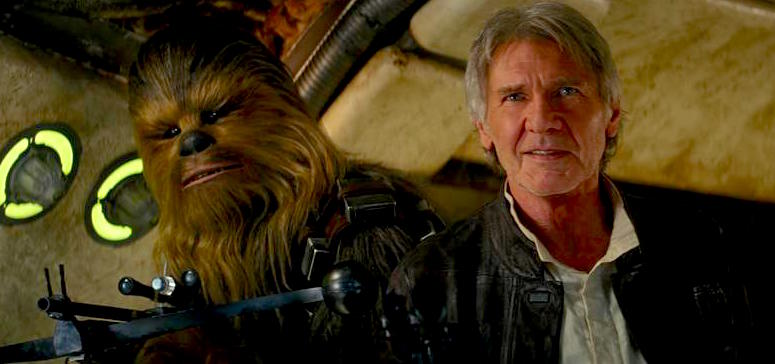 Please read this opening crawl with John Williams Star Wars theme blaring in your head…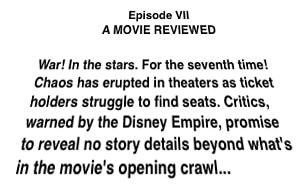 In the first trailer for The Force Awakens (aka Star Wars Episode VII: The Force Awakens but we'll go with the shorter title). Han Solo famously announced…
Chewie we're home.
You'll be happy to learn that it wasn't just a well placed trailer byte but a promise to audiences that the film actually delivers on. I can state unequivocably that the The Force Awakens is the best Star Wars film in 32 years. That might sound like a backhanded compliment — for what could be worse than the 1999-2005 prequels? —  but it's meant with great affection just like the film in question.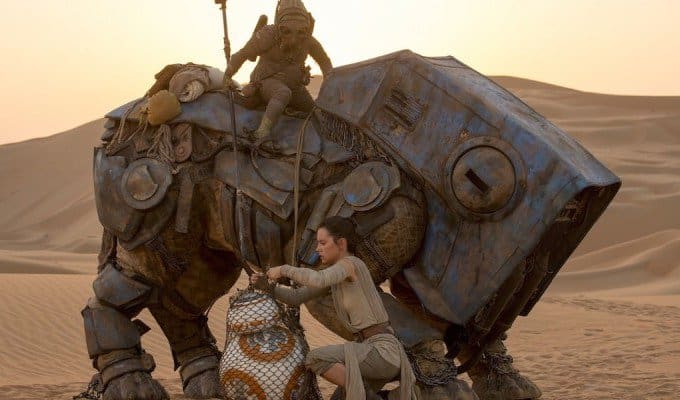 The love for the original trilogy is present in every frame of director JJ Abrams sequel.
The opening crawl, blessedly pulpy again and free of dull politics, embargo, and taxation, catches us up. Here's the very very basic premise: the last Jedi Luke Skywalker (Mark Hamill) has gone missing and General Leia Organa (Carrie Fisher) has sent her most daring pilot on a mission to retrieve information which could reveal her brother's location. The Empire is also back somehow despite being defeated in Return of the Jedi. They're now known as "The First Order" though the set design surrounding them unsubtly views them as The Third Reich.
Han and Chewbacca, not in the opening crawl, are also back and get many of the funniest beats.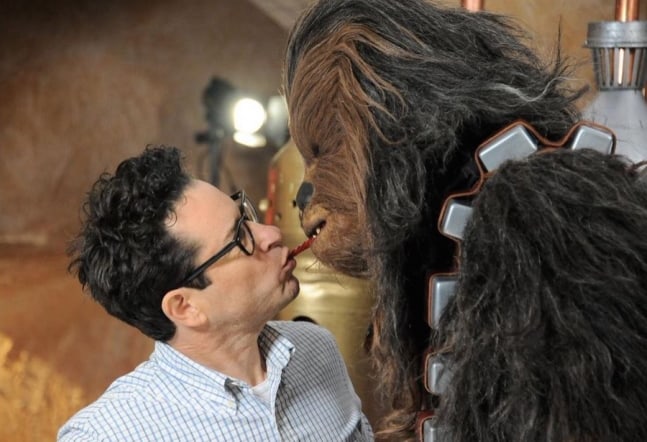 And we're off to a grand adventure. In true Star Wars form, the opening shot is of the stars which is then interrupted by a planetary body and/or a massive ship suddenly entering the frame. In this case the ship flies over the frame blocking out a very bright moon. That's a visual move that will be subtly echoed narratively if not visually later on. Director J.J. Abrams and his co screenwriters Lawrence Kasdan and Michael Arndt have obviously studied the original films closely and smartly avoid every wrong-headed blunder of the prequels.
They also magically deliver three crush-worthy new heroes with their eye on the prize of future films. That's a good move since the plotting is too imitative to thrill on its own. Rey (Daisy Ridley) a scavenger girl from a desert planet that looks suspicously like Luke's Tatooine, may prove the most popular among them.
There's been a lot of talk in the culture lately about Star Wars being a 'boys' thing and there will be much talk about Rey that will rewrite history and claim that Star Wars is finally for girls, too. Despite the frequent absence of Leia toys — a merchandising not a movie problem — the original trilogy was always for both boys and girls. And gay boys who worshipped Leia and lusted after Luke or Han! (Luke man here, don't judge). It's the "Princess" in Leia's name that throws people retroactively. Carrie Fisher's signature role was never a damsel in distress: She fought Stormtroopers (Star Wars) and defied Darth Vader right to his face without flinching (Star Wars) something Luke could never do without a lot of trembling / sweating ; She commanded armies (The Empire Strikes Back); She killed Jabba the Hut and then rescued Han Solo (not the other way around), and valiantly fought on speeder bikes in the Forest of Endor (Return of the Jedi).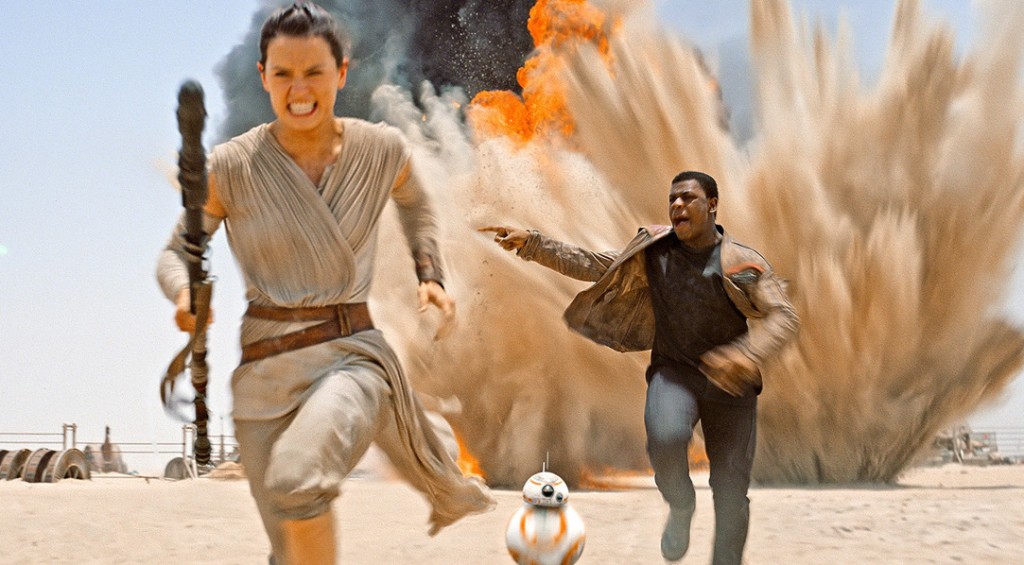 Rey is, likewise, no slouch in battle. She's gifted with The Force Awakens smartest plot turns and sharpest scenes but let's not rewrite history in her praise. Princess Leia was a badass bitch herself!
The worst that can be said of the new film is that it's probably too beholden to the originals. While it would be somewhat unfair to call it a "reboot", it borrows so heavily from the structure, visual language, landscapes, and even plot points, that calling it a "remix" would not be wholly inaccurate. It often plays like great fan fiction that you wouldn't mind adopting as canon. Consider the new central trio Finn (John Boyega), Rey (Daisy Ridley) and Poe Dameron (Oscar Isaac). You could argue that it's Han, Leia and Luke all over again. The fun — and The Force Awakens is great fun, never skimping on humor– is how clever the new episode is in scrambling up those archetypes and skewering the modern blockbuster's regressive gender expectations in the process.
But fear not, purists, some things will never change. The Stormtroopers still have absolutely terrible aim and their iconic white armor remains hilariously ineffective; they're always felled with just one blast.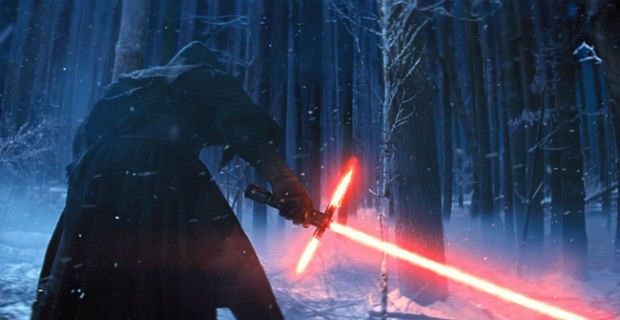 CUE EXIT MUSIC. STRAY OBSERVATIONS…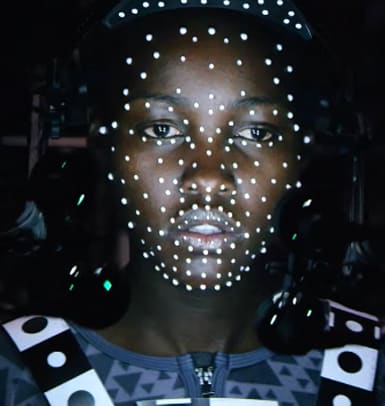 • Seeing Han, Luke and Leia again….oh how The Nostalgia Awakens. Thankfully the sentiment doesn't get in the way of the story but informs it beautifully.
• Daisy Ridley looks a little like and sounds exactly like Keira Knightley which is… disturbing.
• Lupita Nyong'o appears… no, scratch that. Lupita is heard as an ancient alien who jump-starts one of the main character's arcs. But why is Hollywood still refusing to let us see her beautiful face post Oscar win?
• The acting is as overripe as it was in the earlier Star Wars films (though not, thankfully, as wooden). There is a great moment when Han Solo tells one of the young actors to "take it down" when they're at fever pitch. So funny.
• The Force Awakens is not half as manic with action as the prequels (a very welcome thing) but sadly there is no fight scene quite as thrilling as the Darth Maul fights from Phantom Menace, basically the only unmissable 10 minutes in 418 minutes of prequel garbage.
• Oscar Isaac is super sexy fun as the fighter pilot Poe Dameron. He's also arguably the most f–kable movie star on the planet right now. Here he is singing the silly Bill Murray "Star Wars theme"
https://www.youtube.com/watch?v=RS9LPPOIEZM
Nathaniel Rogers blogs daily at the Film Experience. He would live in movie theaters if  he could. Follow him on Twitter @nathanielr.