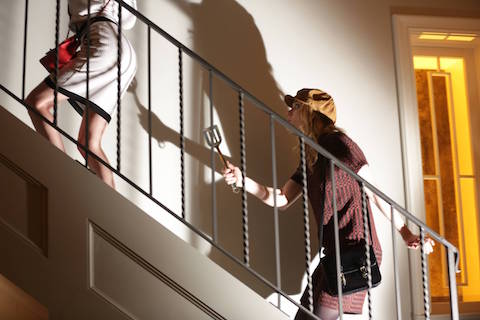 If last night's finale of Scream Queens and the weeks of speculation that preceded it taught me anything, it's that I am a terrible detective. Almost all my personal theories ended up being wildly inaccurate.
Though, to be fair, the show hasn't made it easy to play whodunit. With its twists, turns and Grand Canyon-sized chasms of logic, the big reveals in the two-hour finale managed to feel both utterly predictable and nonsensical at the same time. I stand by my earliest assessment of Scream Queens being "the Ryan Murphy-est thing Ryan Murphy has done so far." It was, at times, crass for the sake of being crass, heavy-handed with social commentary seemingly out of nowhere and filled with inconsistent characters. It barreled toward an ending that — no matter how much straight-up explanation packed the final hour — still felt unearned.
And yet? It also had moments of sublime comedy, excellent performances and plenty of style. (I'll never tire of the Kappa girls' endless fur collection.) No matter what Scream Queens couldn't quite nail in terms of terror and tension (even MTV's made-for-TV Scream reboot managed a few more sincere scares), it compensated with snappy dialogue and sharp-toothed bites out of contemporary culture.
In the end, this felt much less like Glee-meets-slasher, and more like Scooby-Doo for the de-sensitized, selfie-obsessed millennial generation.
It's certainly no masterpiece, but I did enjoy my time with Scream Queens once my expectations were properly set. If nothing else, everyone seems to be having a lot of fun, (which is more than I can say for Ryan Murphy's other current series). I'd be down for another madcap season, if that's in the cards.
Let's discuss how it all happened in our SPOILER-filled recap, below.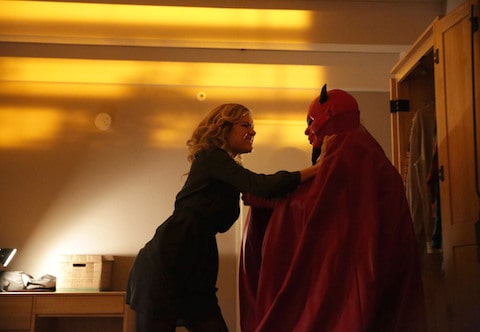 We pick up exactly where we left off last week, with Grace (Skyler Samuels) and Pete (Diego Boneta) in the dorm room. He confesses that he was one of the Red Devil killers. He caught Boone red handed after the Devil killed security guard Shondell (Deneen Tyler). Pete followed him back to his room, where Boone (Nick Jonas) told him everything and convinced him to join the noble cause of stopping Greek life for the betterment of society or whatever. Pete makes a deal with Boone to keep Grace safe.
Then, the bathtub twins started to question Pete's loyalties. They made him kill Roger (or Dodger, doesn't matter). To end the reign of terror, Pete killed Boone, and then he killed Gigi. He's just about to tell Grace who the other Red Devil/bathtub baby is when suddenly the Red Devil appears and stabs Pete. Grace tries to fight back, but she's knocked out (though the Devil lets her live).
She comes to and recruits her dad (Oliver Hudson) in her efforts to seek out who the remaining killer is. The only lead she has is Pete's reveal that it's one of her Kappa sisters. Grace gets Wes to seduce the dean (Jamie Lee Curtis) while she and Zayday (Keke Palmer) snoop for evidence in the other Kappa girls' files. It appears one of their sisters faked her entire background, including high school transcripts (from Sweet Valley High), address (Sesame Street) and even Social Security number.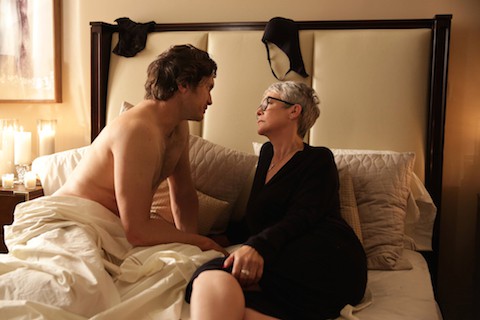 The wild romp between Wes and the dean leads Wes to legit fall for Dean Munsch. The dean says they need to get some space from Grace, but it doesn't really matter or factor into the story later, so not entirely sure why any of this is relevant other than to give Wes a sort of "conclusion" where he is over his ex-wife and ready to stop helicopter parenting and move on with his romantic life. As if that was something we really needed to know. Still, I appreciate all dat #dadbod.
Meanwhile, Chanel Oberlin (Emma Roberts) has sent her sisters an acid-tongued missive in the style of the infamous sorority email that went viral in 2013. Though short of c-punting, it's still got lots of barbs, which the show portrays in an inventive kinetic typography display. The Red Devil forwards the email on to the whole campus, setting off a media storm. Now, as the most hated young woman in America, Chanel decides she must kill herself (hilariously in the style of Cleopatra with a mail-order asp), but Zayday swoops in at the last minute to rally her.
It's just in time, because a Red Devil comes running wildly into the room. Z fights him off, revealing a man we've never seen. They tie him up and bring him downstairs where we learn he was just a pizza guy that showed up, got bonked on the head by the Red Devil and then strapped with dynamite. The girls take cover and the guy goes kaboom in spectacular fashion. Pink mist, with a side of pepperoni.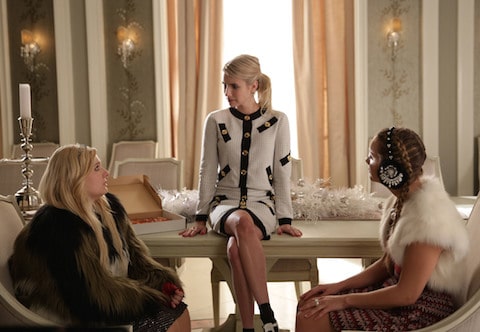 A seemingly changed Chanel No. 1 gathers her minions and sets out on her apology tour to win back the hearts and minds of the people. Her first stop? Melanie Dorkus (Brianne Howey). The spray-tan victim survived the ordeal and always blamed Chanel. The Chanels go to visit their former president, but, instead of apologizing, Chanel Prime whips out some shears to murder Melanie. She's convinced Dorkus is the Red Devil killer based on some hysterical claim from Chanel No. 6/Hester (Lea Michele) that she saw a woman in a veil wandering the KKT house muttering "Dorkus."
That's when Grace and Zayday arrive to tell Chanels No. 1 and No. 3 (Billie Lourd) (Abigail Breslin's No. 5 ran to catch a Tinder date) that Dorkus is not the Devil, Hester is.
The girls run back to the house only to find Hester with a Jimmy Choo stiletto right to the eye. The fallen Chanel No. 6 is able to tell the police that it was No. 5 who did this to her.
Flash forward to January 2016: Zayday and Grace are running KKT, Hester is their treasurer and there's nary a Chanel in sight. That's when Hester looks at the camera and reveals it was her all along.
Dun dun dunnnn.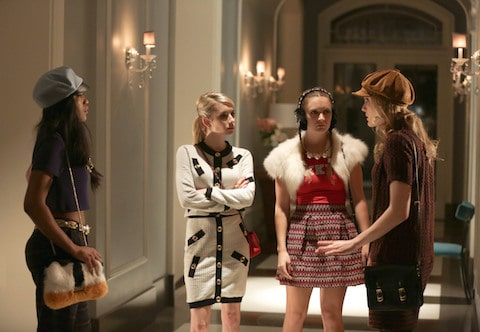 Now, what follows is a series of jumps backward and forward through time that I will do my best to recount chronologically.
Let's go back to the early days in the asylum. Baby Boone and Baby Hester are somehow allowed to be raised in the asylum, where Gigi begins training them from a young age to carry out this revenge plot. Hester proves to be the brighter of the two. In my favorite character justification provided in the series, she steals a neck brace off another inmate because she realizes that the stranger someone appears, the less people care to ask questions or get to know them. It's a cruel truth, but truth nonetheless.
Boone never even bothers registering for classes, since most of the Dickie Dollar Scholars don't go to class anyway. In my least favorite character justification provided in the series, he pretends to be gay, we learn, because he is dumb? And bad at backstories? Sure. Fine. Hester faked her background, but the dean admitted her anyway because something something neckbrace disability diversity something something. (There were a few ham-fisted jabs at the left-leaning, politically-correct, feminist college campus culture last night that all felt sort of like a desperate attempt to say "SEE? WE GO AFTER BOTH SIDES!" even though, come on, I think we know by this point where Ryan Murphy and company's political loyalties lie.)
When Hester arrived at the KKT house, Grace and Zayday were kind to her, so they were spared from her slaughter.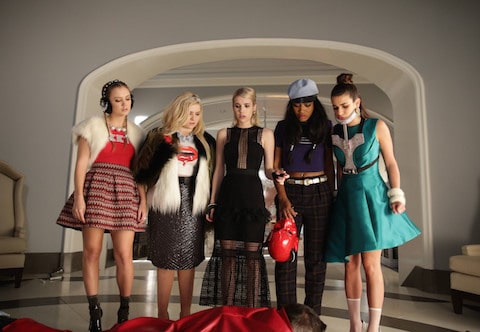 But what of the Chanels? After Hester returned from having the shoe removed from her orbital socket (which she knew just how to insert to prevent real damage), she continued to pile the blame on No. 5. Grace and Zayday present their case to Hester, claiming her faked background points to her being the bathtub baby. However, Hester is ready with a set of "parents" who come in claiming to be C.I.A. agents, requiring a cover. Hence all the doctored, faked and missing records.
OK, but what about Chanel No. 5's birthparents? Surely they could prove she's not a bathtub baby. Not so fast. Hester had convinced them earlier to disown No. 5. They were happy to do so, and sort of considering doing it anyway, because she is so awful. They show up and say that, yup, No. 5 is adopted from Gigi and probably a killer. Good thing Denise (Niecy Nash) is here to arrest her. Case closed!
But not yet! She didn't act alone. Hester reveals to the group that Chanel No. 3 was also in on it. According to Hester, No. 3 has a split personality named Dirty Helen who hated her latent lesbian leanings, so she killed predatory lez. Plus she's Charles Manson's daughter and her daddy has been writing her letters about killing her friends, including instructions on the pizza boy bomb. OK! So Chanel No. 3 is under arrest, too. Case closed, again!
Wait! There's more! What about Chanel No. 1? Well, she's been using the murders to cleanse the Kappa pledges of undesirables, making her a murderer as well! Hester has security footage of a hardware store where we see Chanel No. 1 (really Hester in disguise) buying all sorts of assorted murder weapons. Chanel No. 1, you are also under arrest. Case closed, for real this time!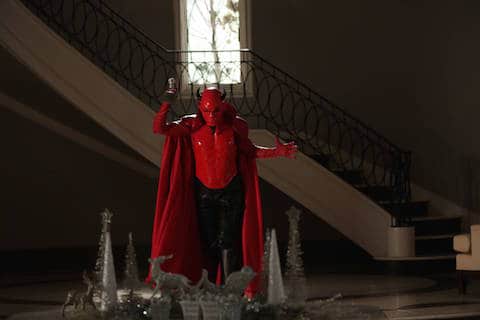 With the Red Devil menace seemingly stopped for good, students return to Wallace University. The new face of KKT, under the leadership of Z, Grace and Hester, make the house more inclusive and focused on doing good. Chad Radwell (Glen Powell) — who was sorely missed throughout most of this two-hour finale — rekindled his romance with Denise, until it comes to a dramatic end after she's called up to Quantico to serve in the FBI. Even Dean Munsch seems to be doing well, becoming a best-selling feminist author.
The Dean still has a conscience though, and she confronts Hester. She knows Hester is that bathtub baby, the Chanels are innocent and she's going to turn her in. Hester calls her bluff and manages to convince her to keep the happier reality they're all living in now where Munsch is a best-selling author and not a convicted murderer for killing her ex-husband. Well played, Hester.
As for the Chanels? They're almost found not guilty in their trial until a last-minute outburst alienates the jury and they change their verdict to guilty. The judge sentences the three of them to the asylum. Once there, things are actually looking up for them as well. Chanel No. 3 embraces her Sapphic side and hooks up with a lesbian nurse. No. 5 gets on some meds that actually improve her personality, and Chanel No. 1 gets voted house president. Without all the pressures of popularity, they can really be happy.
Just as Chanel No. 1 tucks herself into bed, finally content, the Red Devil appears above her with a knife, but we cut before knowing what happens next.
So, that's it, folks! What did you think of the finale? Would you watch a second season?