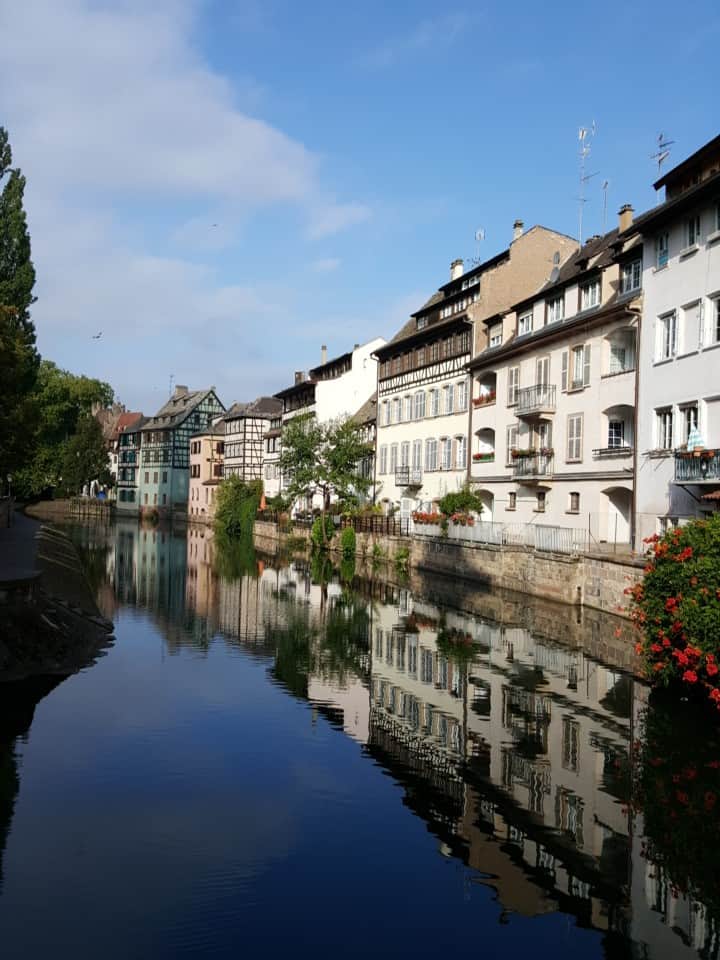 Like ocean cruises, river cruises offer the convenience of a "floating hotel," where you unpack once, and let the ship take you to a new destination every day. But on the river, the ships are smaller — typically 130-180 passengers — as are many of the ports, creating a much more intimate and interesting experience. River Cruising is popular with gay travelers, with at least one all-gay river cruise charter offered every year. But outside of those few departures, river cruises are filled with mostly older (50-80s; mostly 60-70s), straight, white couples. How comfortable would a gay couple be on a non-charter departure? Very comfortable is the simple answer – but read on to discover the more nuanced experience of being the only gay couple on a UNIWORLD river cruise.
MEMORIES AND MOMENTS
This cabin is small.
We traveled on the iconic River Queen. With her blue hull, arched windows and art deco design, she is without question, the most elegant and sophisticated ship on the European rivers — completely unlike the boxy white ships that are standard here. Built in 1999, refurbished in 2005, she's smaller than most, her cabin windows don't open (they may be retrofitted to do so next year), and the cabins (other than the 4 suites) are small. When we first walked in, I wondered how we'd fit everything into the half-depth closet. But the ingenuity of the cabin design quickly revealed itself. With hidden shelves, deep drawers in all of the furniture, and cavernous under-bed storage, everything fit easily. Getting ready for dinner required a little jostling, but once settled in, our lavish yet tasteful accommodations felt cozy, not cramped.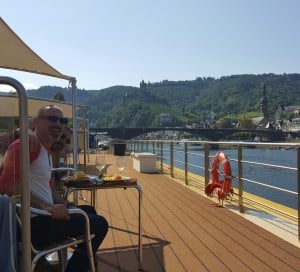 Yesterday's port was the most charming ever … until today.
We sailed the 13-day "Legendary Rhine and Moselle" itinerary from Basel, Switzerland to Amsterdam, visiting France, Germany, and Luxembourg along the way, seeing big cities like Strasbourg and Cologne, but also stopping in ancient small villages, like Colmar, Rüdesheim, Cochem and Bernkastel — one more charming than the next. As well-traveled as my husband and I are, we were unprepared for the breathtaking scenery of these towns. I wouldn't have thought to put the Moselle River Valley on my bucket list, but having been there, I recommend you do. At every destination there was a locally guided tour, plus free time to explore on our own by foot, or using the bicycles the ship provided and delivered to the foot of the gangway on request.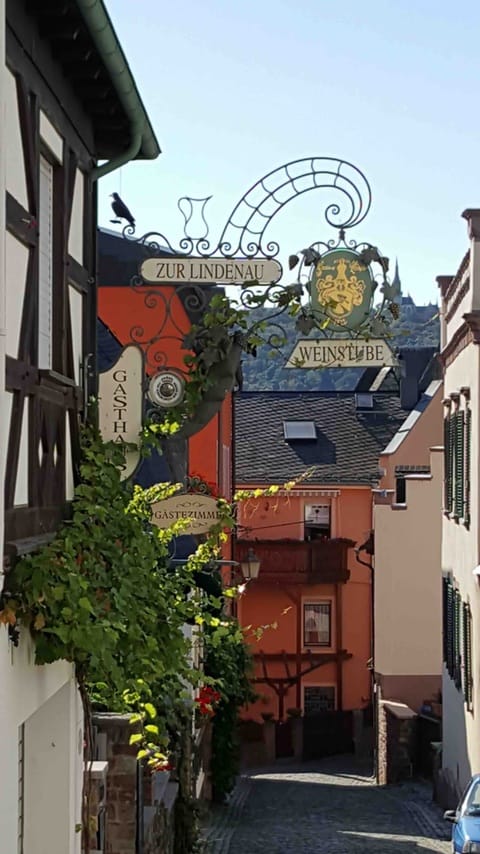 If it's Germany, So is the wine
Meals were clearly designed for an American palate, with a wide range of mostly familiar options, but every meal also featured local specialities and wines. Vegetarian options were prominently featured on the menu, incorporating local produce and traditions to remain as interesting as the meat options without an over reliance on grilled vegetables and pasta. We tried new wines every night, but our favorites from previous meals were also available if that night's wine wasn't to our taste. None of the meals rose to the level of Michelin-starred dining, but the general standard was excellent — what you would expect of a non-celebrity luxury hotel dining room. Only the desserts, which relied heavily on ice cream, were below my expectation — but that might have been a good thing. If they matched the quality of the rest of the menu, they would have had to roll me off the ship after 13 days.
Table for Two
Although lunch was served only once up on the sun deck, we took our own meals there three additional times, enjoying a near private dining experience. Our favorite: under a stunning view of the Reichsburg Castle. Although we declined the dining room staff's offer to carry and set up our lunch, they brought an ice bucket to chill the bottle of Federweisser we brought from town without being asked, and checked on us throughout our meal. Just one example of so many where the staff anticipated a need and over-delivered.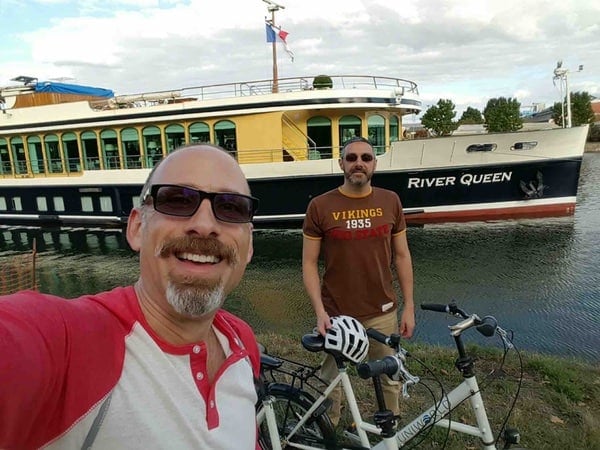 The Captain is carrying a bicycle
Read any review of UNIWORLD, and you'll hear people rave about the service. The staff was efficient, attentive, friendly and engaged — without exception — delivering personalized service on par with the very best hotels. They quickly learned our preferences and anticipated our desires. We saw this most in the dining room and bar. My complicated cocktail was memorized the first night, and perfected the second. The dining room manager found me at every meal to make sure my vegan-leaning diet was not just accommodated, but anticipated and communicated between the waiters and the chef. But it was seeing the Captain pitch in and carry bicycles down from the sun deck for us that brought the secret into focus: This was a team effort to exceed expectations, where everyone working on the ship was personally invested in our enjoyment.  
Caring Conservation
Most cruise lines pay lip service to the idea of environmental protection, with faint encouragement to reuse your towels, while consuming mountains of disposable paper napkins, plastic cups and water bottles. Uniworld uses cloth napkins — even for cocktails, and stocks each room with aluminum water bottles for excursions, and a carafe of filtered water on the dressing table that was refilled twice a day. Bathrooms were stocked with L'Occitane products in full-sized refillable bottles, and rooms were kept spotless with eco-friendly, fragrance-free products and microfiber cloths. It felt good to be on a ship where their care for the environment was extensive and visible.
A TYPICAL DAY
River cruises travel shorter distances and land closer to their port attractions, so they generally spend more time in port than ocean cruises. Still, the schedule is a structured one, and most guests fall into a daily program that has everyone pretty much doing the same thing at the same time. It takes only a little effort to break that pattern, and our best days were the ones on which we did so.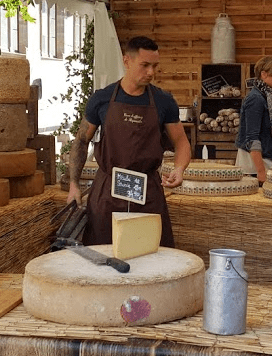 My day started typically at 6:50. I'd open my eyes to a new view — sometimes the river, sometimes a town, sometimes the cabin of a ship tied up in parallel to us. I slipped into my shorts and t-shirt, and joined the daily 7am exercise class. Though it had a different theme every day, it should have just been called "morning stretch" — with a taste of yoga or TRX thrown in. It was never challenging, but always a great way to start the day — particularly because it was usually just me, the fitness instructor/masseuse who led the class, and the most handsome of the young sailors. Thirty minutes later, a quick shower and we were off to breakfast from an extensive buffet plus cooked-to-order specialities — always eggs, omelets, french toast and pancakes, plus a daily special — like tempura bananas.
The morning tour started at 8:45 or 9am. Early, yes, but it usually meant we got to see the attractions before the tourist crowds arrived. In Cochem, we got to explore Reichsburg Castle without other tourists crowding the rooms and photobombing our selfies. Following a two-hour, locally-guided tour, we had an hour to explore on our own, and then transportation back to the ship (often, not required, as we were docked right in town) for lunch. Lunch was also served off the buffet, with a variety of hot and cold dishes, full salad bar, local cheeses and delicacies, lots of fresh fruit and all the wine we could drink.
After lunch, we stopped at the reception desk, picked up bike keys and helmets, and rode off on our own — along the banks of the river, into the next town, or up the steep hills into the vineyards, sometimes relying on the ship's map or google to direct us to a destination, more often just letting whimsy and the road guide us to unknown pleasures — a scenic overlook, a wine tasting, a local market. Many passengers were back on the ship for afternoon tea and piano music, which segued into pre-dinner cocktails and more entertainment — sometimes local singers and musicians were brought on board, and finally into the port briefing.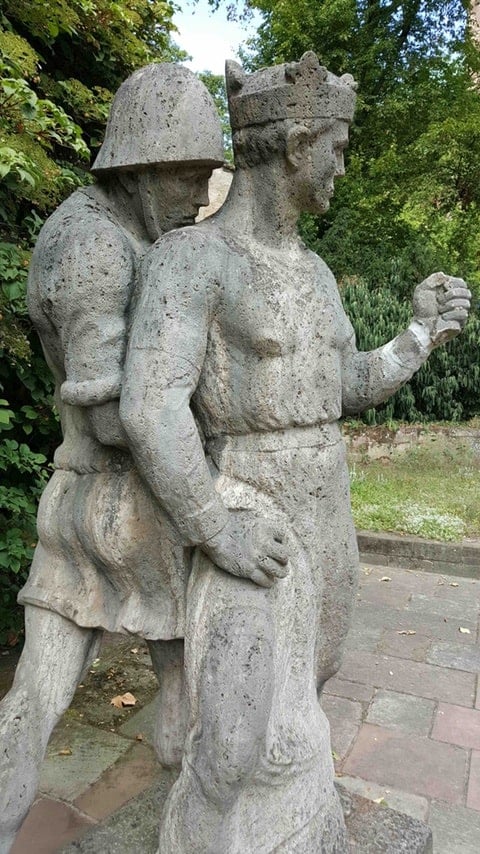 At 6:45 each night, our cruise director would tell us about the next day's schedule, and any options for the following day that required registration. In addition to the classic walk or bus tour program, there were a couple of "go active" options — like a 20-mile guided bike tour along the river, or a "hike" to a small village (really just a walk down the hill). The local guides were not exclusive to UNIWORLD — they freelanced for all of the river cruises, and they varied in style and knowledge. Of the dozen or so we experienced, two were exceptionally good, and two were disappointing. Twice we saw one of our guides with another cruise group the day after they were with us, but we always had a higher guide-to-passenger ratio, meaning smaller groups.
As independent travelers, we occasionally bristled at the "follow the guide with the numbered lollipop sign" — particularly in small towns with lots of groups on the same paths, but two things helped: UNIWORLD pioneered the use of a "Quiet Vox" system — wireless headsets that let you hear the guide without gathering around him or her. We could wander about looking and exploring, not stuck in a clump but still hearing the information — even a block away. And we sometimes left the group if we happened upon something interesting — like the European Month of Photography exhibit at the MHNA museum in Luxembourg.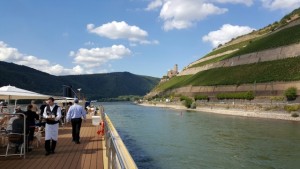 After the cruise director's 15-minute presentation, we went to dinner. Sometimes right at 7 when it opened, sometimes lingering for a drink first, or sometimes as late as 8:30, if we had stayed off the ship for an extended exploration. Open seating allowed us to sit with new people almost every night, or by ourselves if we wanted a quiet meal. Our shipmates were genteel and friendly to a fault, and never once did we feel out of place as a gay couple. Only once, when dinner conversation turned to politics, did things get a little uncomfortable — and not over gay issues, but race and economics. We gravitated more naturally to the younger folks and the Brits and Canadians on board, and steered our further dinner discussions to the extraordinary sights we'd seen that day, and away from politics.
A few couples hung out dancing in the lounge most nights, while we retreated to our cabin, with a decent selection of TV and movies, and free internet that was sufficient to upload our photos to Facebook, check email and surf the web. One of the unexpected highlights was passing through the locks (more than 30 of them on this itinerary) that tame the rivers' changes in altitude, allowing the ships to navigate gently. A small group of us would gather on the sundeck day or night to witness this quotidian engineering miracle. Once or twice we made a late-night run to the lounge for the coffee/tea and sweets station that was stocked 24/7, but mostly we were in our very comfortable bed by midnight.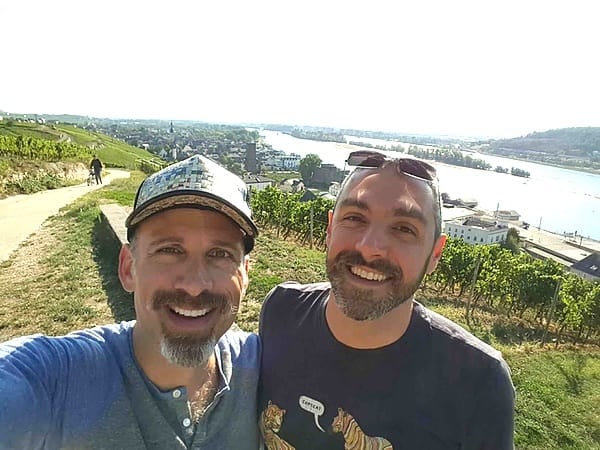 GAY FACTOR
The UNIWORLD staff go above and beyond to make every guest feel comfortable. As a gay couple, we were embraced with the same respect and care that extended to everyone on board. Many of our fellow passengers reached out to say hello, sit with us and initiate conversations. There were two couples on board who set off our gaydar — older women with a practiced way of discussing their lives without revealing their orientation. And there was some eye-candy among the crew and in every port.
As hetero-dominant environments go, it could not have been more welcoming. If we ever felt out of place, it was because of our age, our liberal politics or our urban lifestyle — never for our sexual orientation. As we were on a 13-day cruise, the average age was older than what we observed on the seven-day cruises. And we would expect to see more families during summer vacation.
About 15% of the passengers were in their 50s; most were in their 60s and 70s; and one in her 20s fresh out of law school traveling with her parents. The generation of gay men who would be in the prime river cruising demographic today was hit hard by the AIDS crisis. For those now in their 40s-50s, a river cruise is a unique and rewarding experience best shared with a small group of 4-8 friends or family, but completely comfortable for individuals (even solo travelers) content with genial companionship.
KNOW BEFORE YOU GO

Booking your trip
UNIWORLD runs itineraries in Asia, Egypt and India, but their core offerings are in Europe, from April through December. Their newer "Super Ships" offer even more amenities and facilities than the River Queen we sailed on, but the private balconies and small swimming pools would be nice-to-have, not need-to-have amenities. Discounts are offered for early bookings, and sometimes for late bookings as well. Book through your travel agent, or UNIWORLD directly.
Seek and Ye Shall Receive
Be sure to communicate any dietary or special requests with your booking. Once on board, direct questions about the destinations to your cruise director, and any special requests to your cabin attendant, bartenders, waiters or reception. Everyone is ready to go out of their way to make your experience memorable.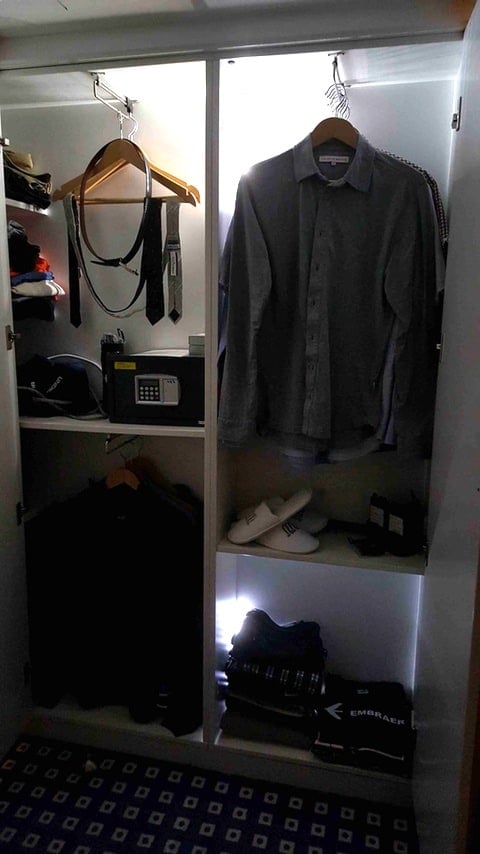 Dress the Part
Although there are two "formal" nights on board, we were surprised at how casually most passengers dressed — even on those nights, when nice jeans and a collared shirt would not be out of place. We had fun dressing up for dinner a couple times, but it's not necessary at all (just avoid shorts and t-shirts at dinner). Laundry service is provided at less than standard hotel laundry rates, but Miele machines and a serious iron set up are available for complimentary guest use (including detergent), so you can easily pack less than you might ordinarily.
Port visits
The land program — outsourced to local guides, heavily practiced, and designed to meet the most general interests of the group, with a heavy slant towards history — was the only weak part of the UNIWORLD experience for us. But many of the guides were fonts of insider information — our guide in Bernkastel tipped us off to a winery that provided the Riesling for Princess Diana's wedding, and our guide in Amsterdam was well versed in the city's gay history and neighborhoods even though they weren't part of his standard tour.
We loved using the bikes. They were a fun way to see the ports, allowing us to cover much more territory than by walking. Reserve one at the reception desk, pick it up at the foot of the gangway, and leave it back there when you return. All bikes come with built-in wheel locks (no fumbling with a separate lock), and optional helmets and baskets for shopping. Delightful and easy.
On board amenities
UNIWORLD offers a completely all-inclusive experience — not just meals, but all beverages, including premium liquor, shore excursions at every stop, bike rentals and full gratuities. It was very freeing not to have to worry about running up a bar bill, and like most passengers, we ended the trip with a $0 bill. You can pay extra for a few things: ultra premium liquor, massages, laundry service, and a few optional excursions, like the €259 hot air balloon ride we declined. A small gym is available for on-board workouts, but the main amenities are elegant lounges and extraordinary service, with a constant change of breathtaking scenery.
Choosing accommodations
Cabins are generally small — bridges and locks constrain the height and width of all river ships. But like most guests, we spent little time in ours. Private balconies seem appealing, but they take up precious square footage of your cabin, and we rarely saw people using them on the other ships on the river.
If you can afford it, suites offer the luxury of enough space for two people to dress or be in the bathroom at the same time. River ships are generally quiet, but it may be hard to choose a cabin that is always free of noise — particularly when docking: Lower deck accommodations may be impacted by some engine noise, while on the top deck, we could hear the footsteps of the crew above us when tying up the ship in port or one of the locks. The main difference between the decks is in the size of the windows (higher=bigger) and their closeness to the water.
PACKING GUIDE
Some couples dressed up for dinner every night, but most did not. Cabins had mostly European outlets, but one US-style outlet in both the cabin and the bathroom. Download any movies or books to your devices before boarding: WiFi is dependent on the cellular connection coming from the shore: strong when close to densely populated areas, but weak away from them. Download and porn sites were generally blocked. Umbrellas magically appeared anytime they were needed, but a small travel umbrella is worth having, along with a lightweight day pack, and waterproof jacket. Rooms featured an iPhone dock, but not a lightning connector, so bring a speaker you can connect to your iPhone. Comfortable footwear is a must, and loungewear suitable for public spaces enhanced our enjoyment of the full ship experience.
SKIP IT
The occasional lunch, dinner or shore excursion. It's easy to never deviate from the ship schedule — especially when you've already paid for meals, and the food and service are so good. But the occasional solo deviation makes the experience feel even more personal and exclusive.
IS A RIVER CRUISE CRUISE FOR YOU?
YES
Having someone else take care of and worry about all the details is appealing.

You're interested in exploring Europe's smaller towns and villages.

You want to be wined, dined, entertained and pampered luxuriously.

You enjoy socializing with pleasant people, regardless of age.

You're interested in history and culture.

You have a special diet and don't want to have to constantly explain it or feel culinarily limited.

You've outgrown the White Party.

You like to drink, and don't want to think about a bar bill.

You want to disconnect from the internet and rekindle the romance.
NO
Parties, nightlife and hooking up are important aspects of your vacation.

You'd be uncomfortable being the only gays on board.

You're uncomfortable around senior travel companions.

You want an immersive and really foreign experience.

You're intolerant of different (re: conservative) political opinions

You're not willing to be part of a group following a tour guide lollipop.
The article above is editorial based on a press trip. ManAboutWorld highlights tours and cruises we've personally participated in, and is editorial, not advertorial. Like virtually all travel publications, we sometimes accept discounted and sponsored travel, but ManAboutWorld is beholden to no one but you. Our recommendations are based solely on the experience and opinions of our editorial team and trusted network, putting our readers' interests above all. If you ever have an issue with anything we recommend, please let us know. We always have your back, and your travel satisfaction in mind. Read our full disclosure http://www.manaboutworld.com/?page_id=87 here.
For even more gay travel inspiration and trip-planning information and suggestions for destinations, cruises, tours and events download ManAboutWorld's latest issue. ManAboutWorld's March 2105 issue rates the cruise industry. Start planning your next cruise or land tour now!
This weekly travel column is brought to you by ManAboutWorld, an immersive digital gay travel magazine for iOS and Android devices from Ed Salvato, Billy Kolber, Kenny Porpora, and nearly 75 Global Correspondents. For more recommendations from ManAboutWorld's global gay experts, download our App. There are FREE guides and a 10-issue-per-year subscription-based magazine.
Photos: Billy Kolber