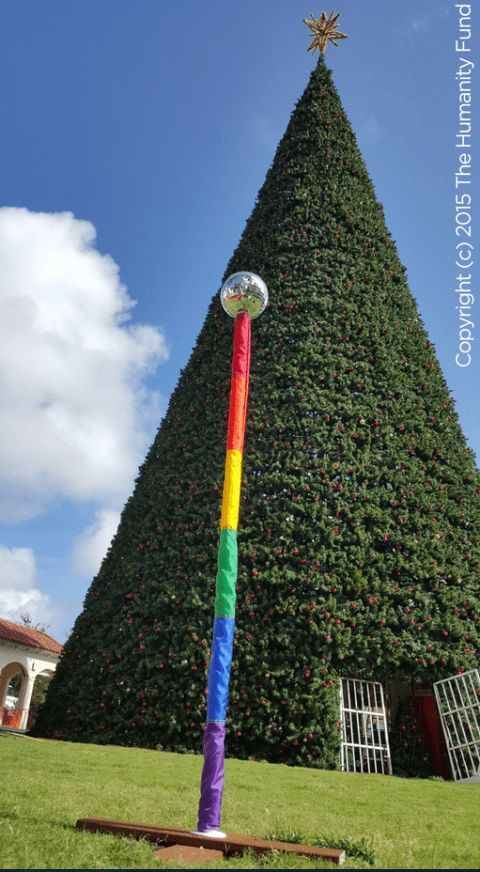 A group of Oklahoma Republican lawmakers is outraged over the approval of a "gay Pride Festivus pole" for display in the state Capitol rotunda.
As we reported last month, the Humanity Fund and Executive Director Chaz Stevens are seeking to place gay Pride Festivus poles in state Capitols across the nation to celebrate the U.S. Supreme Court's ruling in favor of same-sex marriage. The 6-foot-tall poles (like the one above) — marking the parody Dec. 23 holiday conceived by author D O'Keefe and made famous by an episode of "Seinfeld" — are adorned with an 8-inch disco ball and wrapped in the colors of the LGBT rainbow.
In Oklahoma, one of the poles is set to appear next to an existing display of giant nutcrackers and a gift-laden sleigh on Dec. 23, after being approved by the state's Office of Management and Enterprise Services. But four GOP state lawmakers issued a statement calling for the decision to be reversed, according to the Associated Press and KOCO-TV:
"While a lot of us may have liked the Seinfeld series, this effort to mock the celebration of the birth of Jesus, our Lord and Savior, does not illustrate the best judgment of those who manage our state Capitol," said state Rep. Lewis Moore, R-Arcadia. "To Christians, the rainbow is God's promise not to destroy the earth again by flood, as found in Genesis 9:12-17. This sacrilegious symbol wrapped in the gay rights flag, is not respectful of God or the many visitors, including children, who arrive by the school bus load during this time of year to celebrate the peace and joy and remembrance of the sacrifice of Christ for our sins."
"Just because something meets the legal criteria, doesn't mean that it is wise to approve every request," said Rep. David Brumbaugh, R-Broken Arrow. "This is just another example of the continued war on Christmas. The people who approved this should have exercised better judgment."
"Americans are experiencing an increase in  hostility and intolerance toward our Christian beliefs," said state Rep. John Bennett, R-Sallisaw. "If Christians put up something antithetical to Islam, atheism, etc., during one of their most holy days, we would be attacked by the other group and there would be a demand to stop. It seems that we are free to be a Christian as long as we don't live out our faith, vote our faith, take a stand in relation to our faith or believe others should embrace our faith. I'm standing for my faith and Christianity. This gay pride symbol should not be allowed to stand. Oklahomans should be outraged and call on the gay symbol to be removed."
Stevens, who should be thanking the GOP lawmakers for the free publicity, says Oklahoma is one of six states where the gay Pride Festivus poles have been approved, along with Washington, Michigan, Illinois, Georgia and Florida. Applications are pending in two additional states.