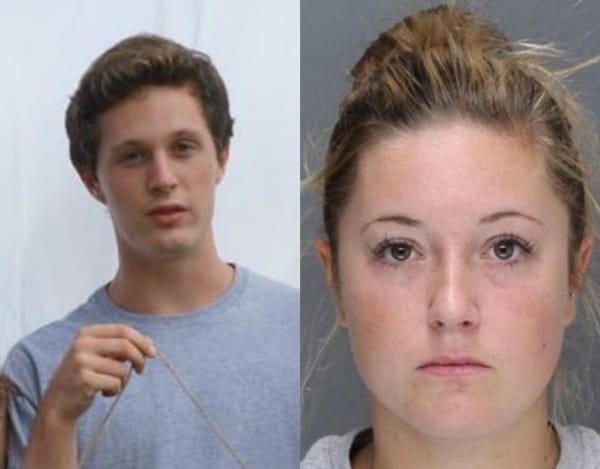 Kathryn Knott is awaiting a verdict from a jury of her peers as to whether she will be found guilty in a heinous gay bashing that took place in downtown Philadelphia on September 11, 2014. While the jury deliberates, a young gay man claiming to be Knott's cousin has a message for the jury: Kathryn is innocent.
The young man, 19-year-old Tim Perkins, a student at Emory University, made his plea in a note posted to Facebook. In it, he said that Kathryn is an "innocent girl" who cares about the LGBT community.
In his note, Perkins also suggests that the case against Knott is being trumped up in order to make progress on changing hate crimes legislation in Pennsylvania to include crimes motivated by anti-LGBT animus.
Perkins writes,
"As a proud and active member of the LGBTQ+ community, I cannot in good conscience hold my tongue while my cousin gets dragged through the judicial-mud (even if such a case would improve the safety of individuals like me). In my 19 years with Kathryn, I have never once felt uncomfortable in her presence. Even as I danced my heart and soul out to High School Musical (and subsequently swooned over Troy Bolton), and even as I forced her to pain my nails any time we had a family reunion, Kathryn had never once made me feel uncomfortable for being or expressing myself."
Perkins adds,
"This is a girl who loves so kindly that even my young and confused self could find comfort in her presence, and yet this is the girl whose reputation is being brutally attacked in a misguided effort to protect a community that I know she cares about. And that is not okay…To the jury members who have to make a decision tomorrow: please allow Kathryn to go home."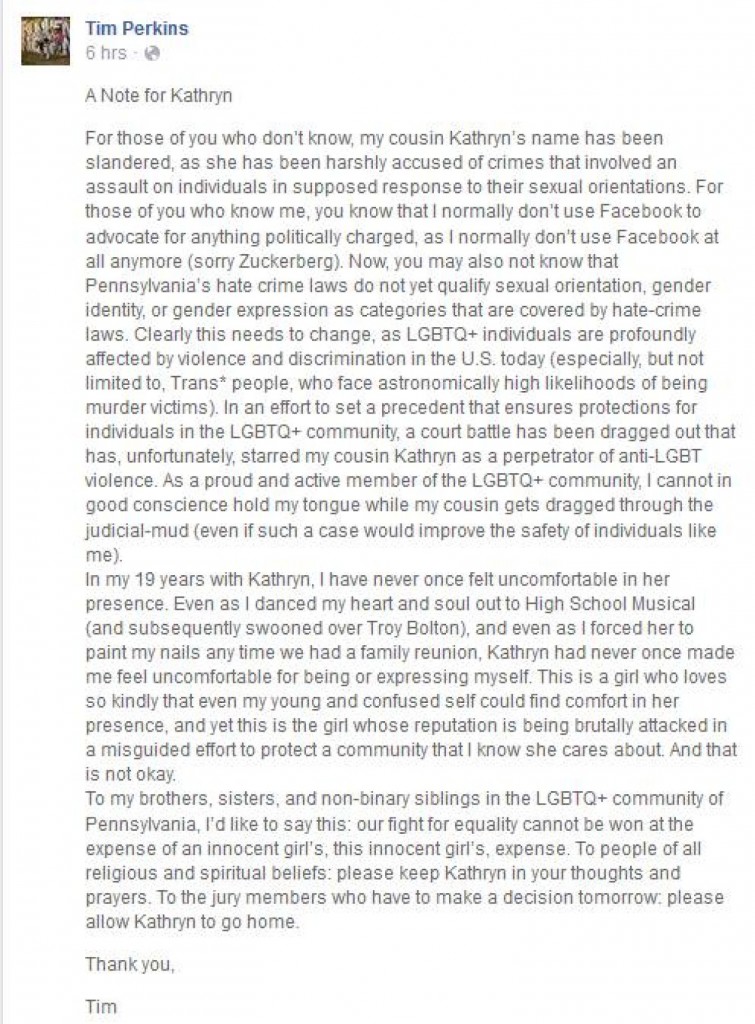 The jury in Knott's case entered their second day of deliberation today, as Philly.com reports:
Based on evidence the Common Pleas panel of eight women and four men asked to see Wednesday, it appears jurors are trying to recreate what happened on Sept. 11, 2014, and assess the credibility of witnesses.
Jurors asked to see police statements given by the victims in the attack – Zachary Hesse, 29, and his boyfriend, Andrew Haught, 28 – by three independent witnesses, and by a friend of Knott's who was there that night.
They also asked to have all videos shown during the four-day trial replayed for them.
Kathryn Knott jurors have now asked nine questions. They were just read the legal definitions of conspiracy and reckless endangerment.

— Dan McQuade (@dhm) December 17, 2015
The jury has adjourned for the day and will continue its deliberations on Friday.
No verdict. 2nd day deliberations Kathryn Knott trial. Jurors return tomorrow. Knott accused in assault on 2 gay men last year

— Julie Shaw (@julieshawphilly) December 17, 2015
You can follow all of our coverage on the trial of Kathryn Knott HERE.
(Screengrab of Tim Perkins' note via NNN)