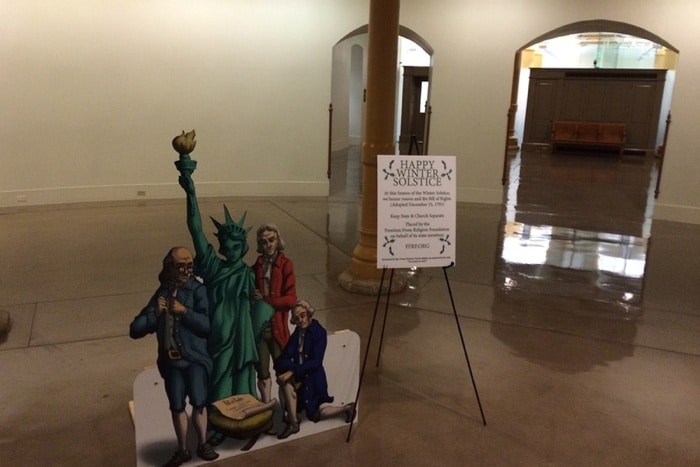 TEXAS. Anti-gay Governor Greg Abbott demands Bill of Rights display be removed from State Capitol because, he says, it "mocks Christianity": "The display (above), a sort of secular nativity scene sponsored by the Wisconsin-based Freedom From Religion Foundation, showed the founding fathers and the Statue of Liberty looking down at the Bill of Rights in a manger. The group's "Bill of Rights Nativity and Winter Solstice Display" sat in the basement of the Capitol — also home to several Christmas trees as well as a traditional nativity scene — and until Tuesday went largely unnoticed by the general public."
THE LIVES THEY LIVED. NY Times provides annual look back at notable figures who passed away in the past year.
LEGALLY BINDING. Madonna has reportedly gotten a court order to force her fifteen-year-old son Rocco to spend Christmas with her. 
HUMP DAY HOTNESS. Chanel model Baptiste Giabiconi.
SPOILER ALERT. Montana man arrested by police after threatening to kill his Facebook friend who spoiled some of the plot points of the new Star Wars movie.
LET IT GO. Don Lemon cuts off interview with guest after he brings up Bill Clinton's affair with Monica Lewinski in discussing Trump's "schlonged" comment about Hillary: "[I]t's gonna take a lot more for me to get upset at a woman who enabled a guy who turned the Oval Office into a frat house and his intern into a humidor."
https://www.youtube.com/watch?v=QvfkFjXNqcU
CHEER UP, EMO KID. The Force Awakens villain Kylo Ren gets his own emo Twitter account.
you can't truly appreciate the imperial march until you hear it on vinyl

— Emo Kylo Ren (@KyloR3n) December 22, 2015
ANIMAL CRUELTY. Video shows a Hollywood animal trainer who worked on films such as Life of Pi brutally whipping a trained tiger. 
SPORTS. Odell Beckham apologizes for helmet to helmet to collision during Sunday's game against the Carolina Panthers that earned him a one game suspension. His appeal of that suspension was denied today by the NFL. Beckham said he was threatened with a bat and taunted with gay slurs by Panthers players before the game.
— Odell Beckham Jr (@obj) December 23, 2015
SANTA'S LAP. Gus Kenworthy had a cheeky moment with a mall Santa Claus.
https://instagram.com/p/_pdezIrT0x/?taken-by=guskenworthy