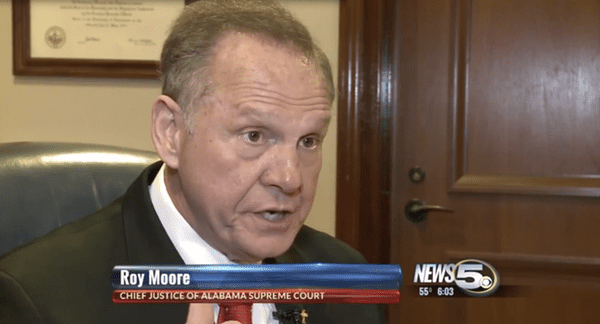 Alabama Supreme Court Chief Justice Roy Moore insists that his order issued Wednesday requiring probate judges to not grant marriage licenses to same-sex couples does not go against the U.S. Supreme Court's ruling on gay marriage.
Said Moore in an interview with the AP, "Probate judges should be following the orders of the Alabama Supreme Court, the highest state authority. If that state authority does find that (the U.S. Supreme Court decision) does have an effect on their order, they will remove the injunction. If they do not, I guess the injunction will continue."
Many have speculated about the timing of Moore's order that effectively reinstated Alabama's same-sex marriage ban. Out gay state representative Patricia Todd confirmed in an interview with Chris Hayes that the move came out of nowhere. Yet according to AL.com, Moore says he sent the order because there was confusion among probate judges about issuing marriage licenses to same-sex couples. That assertion seems unlikely given that the Supreme Court's decision on gay marriage came down in June of last year and probate judges have been issuing licenses to gay couples in the ensuing months seemingly without any confusion.
Two U.S. attorneys have come out against Moore's anti-gay order since it was issued Wednesday and most probate judges continue to issue licenses to same-sex couples. Via AL.com
U.S. Attorneys Joyce White Vance of the Northern District of Alabama and Kenyen Brown of the Southern District of Alabama issued a statement saying they had "grave concerns" about Moore's administrative order.
Some probate judges who had stopped issuing all marriage licenses in response to Moore's order Wednesday said Thursday they had resumed the service after consulting with attorneys.
"We're back to our normal issuance just like we had been before yesterday," said Lawrence County Probate Judge Michael Praytor, adding that license operations had only been suspended for about three hours after the order was issued Wednesday afternoon. […]
Officials in Madison County said they also had resumed issuing licenses. Mobile County said licensing operations were still suspended.
Watch a news report on Roy Moore's defiance of the U.S. Supreme Court, below.