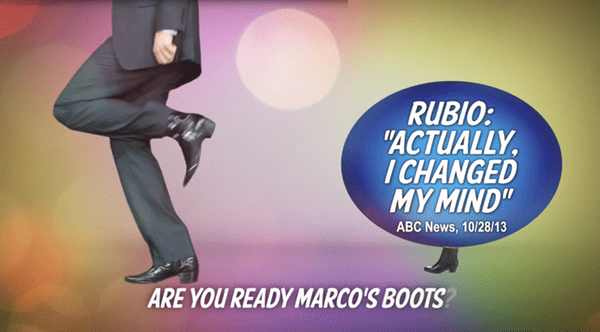 Jeb Bush Super PAC Right to Rise uses Marco Rubio's maligned but famous "fashionable" black leather boots in a new ad accusing Rubio of being a flip-flopper on key conservative issues.
The boots which caused the consternation were worn by Rubio whilst on the campaign trail in New Hampshire.
Marco Rubio is rocking some seriously fashionable black boots today in New Hampshire. pic.twitter.com/lwiSWuuCUt

— Michael Barbaro (@mikiebarb) January 4, 2016
Republican rivals were quick to use the boots to attack Rubio. Via The New York Times:
Senator Ted Cruz's communications director, Rick Tyler, wrote on Twitter: "A Vote for Marco Rubio Is a Vote for Men's High-Heeled Booties." "Rubio has those cute new boots and I don't want to be outdone," Senator Rand Paul said before an appearance on "The View." Carly Fiorina posted a Twitter message with a photograph of her own pair of high-heeled boots, with the message "Yeah, @marcorubio, but can you rock these?"
Steve Schmidt, who ran John McCain's 2008 presidential campaign, assessed Rubio's rivals attacks thus: ""They're clearly trying to effeminize Marco Rubio."
The new attack ad put out by Right to Rise is, however, the most prominent volley lobbed against Rubio in the saga that has become known as  "Bootgate."
The deeply biting personal attack shows just how bitter the fight between the former mentor and mentee. Rubio drew mockery for wearing boots with substantial heels, which rivals saw as an attempt to appear taller than his 5'10" frame.
The primary flip-flop accusation concerns Rubio's past support for comprehensive immigration reform, a plan that Bush has also supported at times in his career. Rubio still maintains that he supports the parts of the Senate bill he sponsored in 2013, but now says that the bill should be split up because of political pressures, into an effort to better secure the border and enforce workplace immigration laws, followed by a bill that would provide an eventual path to citizenship for those currently in the United States without documentation.
Watch the ad set to Nancy Sinatra's "These Boots Are Made For Walkin'", below.