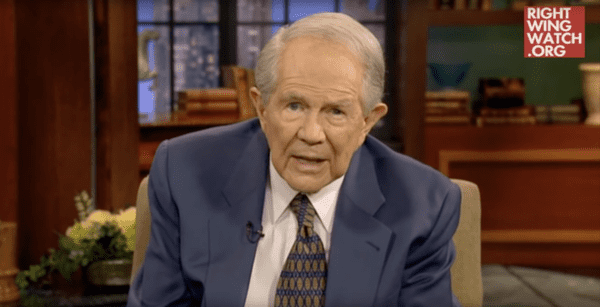 Christian evangelist relic Pat Robertson has advised a woman to let her 17-year-old girl she does not accept the gay "lifestyle" in order to save her from impending doom.
Speaking on The 700 Club yesterday, Robertson admitted that there's "nothing that says somebody can't be attracted to the opposite sex" but he suggested the girl could be "wrapped up in the gay lifestyle" unless the mother intervenes.
He added:
"Many young people, they think they're transsexual and they think they've got to have a sex-change operation, they've got to do this, that, and the other and they don't really know what they're talking about because they're too young to know."
Last November, Robertson said that god will punish America for accepting same-sex marriage by destroying the country's economy.
Listen to his latest ramblings below.
https://www.youtube.com/watch?v=yWTyCpIBMTc