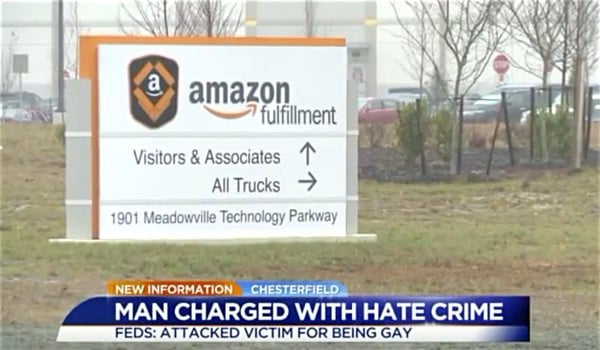 A Virginia man originally charged with misdemeanor assault for punching a worker at an Amazon shipping facility in May of last year has been charged with a federal hate crime. James William Hill III, 34, of Chester, the perpetrator of the assault, "pummeled" the man in an attack that was caught on surveillance video, over his perceived sexual orientation.
The hate crime charge has increased the jail time Hill could face from 12 months to 10 years.
Here is the DOJ release:
RICHMOND, Va. – James William Hill III, 34, of Chester, was charged today with a federal hate crime under the Matthew Shepard and James Byrd Jr. Hate Crimes Prevention Act for a May 2015 assault on a victim known as C.T. in the indictment.
According to the indictment, on or about May 22, 2015, Hill did willfully cause bodily injury to C.T by assaulting C.T., including by punching the victim, because of C.T.'s actual and perceived sexual orientation.
Hill faces a maximum penalty of 10 years in prison, if convicted. The maximum statutory sentence is prescribed by Congress and is provided here for informational purposes, as the sentencing of the defendant will be determined by the court based on the advisory Sentencing Guidelines and other statutory factors.
Dana J. Boente, U.S. Attorney for the Eastern District of Virginia; Principal Deputy Assistant Attorney General Vanita Gupta; and Adam S. Lee, Special Agent in Charge of the FBI's Richmond Field Office, made the announcement after the indictment was returned. Assistant U.S. Attorney S. David Schiller, and Trial Attorney Ryan Murguía of the Civil Rights Division's Criminal Section are prosecuting the case.
Brad Kutner of GayRVA.com, who originally reported on the attack, told WTVR that "This has fundamentally changed the victim's life…Maybe if other people know that this is what happens when you take these steps and maybe if you see the impact."
Amazon commented on the attack by releasing this statement to Kuttner:
"Amazon does not tolerate any type of violence, harassment or discrimination in our workplace and we are appalled at the behavior of this now terminated individual."
Watch a report from WTVR: