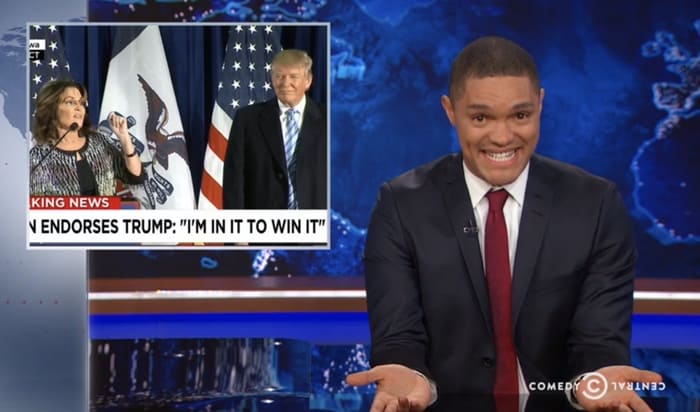 The Daily Show's Trevor Noah and Stephen Colbert are thrilled that the former Alaska governor has returned to the spotlight to endorse Donald Trump because there is nothing better for comedy than word salad.
Said Noah, who's getting a real taste of Palin's particularly brand of crazy for the first time.
"It's like the only thing that Sarah Palin hates more than Obama is punctuation…she's a malfunctioning robot…or it's like a bag of Scrabble tiles that grew a body and came to life."
Watch The Daily Show segment:
And Stephen Colbert calls Palin "the original material girl" because of all the material she provides.
Said Colbert: "God I have missed you. It's like a magical eagle made a wish on a flag pin and it came to life….Sarah Palin just guaranteed Donald Trump the evangelical vote, because I think she was speaking in tongues!"
Watch: