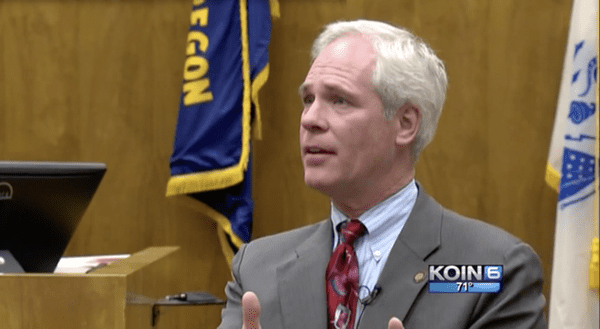 An Oregon commission investigating judge Vance Day has recommended that Day be removed from his post because of a series of flagrant ethical violations that includes refusing to marry same-sex couples.
The commission declared that Day's actions amounted to "criminal behavior", adding, "His misconduct is not isolated. It is frequent and extensive. …(P)ossibly the most disturbing, Judge Day has engaged in a pattern of dishonesty. Although the goal of much of his disingenuousness appears to be covering up misconduct, some of this conduct seems to have other independent objectives."
The commission went on to state, "Judge Day shows no outward sign of comprehending the extent or nature of his ethical violations. His misconduct is of such a nature as to impugn his honesty and integrity."
The nine-member panel made the rare recommendation after determining in a two-week hearing that Day had undermined public trust by refusing to marry same-sex couples, hanging a portrait of Adolph Hitler, communicating improperly with a felon and allowing another felon to illegally handle a firearm.
The commission issued its recommendations in a 48-page report compiled after a two-week hearing. The Oregon Supreme Court will now decide whether Day should be removed.
The investigation began in September of last year because of a host of ethical concerns that had been raised over Vance's actions while on the bench. Day's refusal to marry same-sex couples was one of the last issues brought before the commission.
Oregon Live reports on how Day orchestrated his defiance of marriage equality:
Day instructed his staff members to embark on a "discriminatory plan" by telling people that they would have to check the judge's schedule before he could perform a wedding, the commission said. The judge then told his staff to investigate if the couples were gay.
If so, staff members were to tell the couple that the judge was "unavailable" on the requested day and to call another judge, the commission said.
"Judge Day is a Christian whose firmly held religious beliefs include defining marriage as only between a man and a woman," the commission said in its decision.
Day insists he is being persecuted because of his religious beliefs.
As previously reported, one of the many other bizarre incidents Day has been involved in during his tenure as Marion County circuit judge was his role in hanging a portrait of Adolf Hitler in the Salem, Oregon courthouse's "Hall of Heroes." Not only did Day place that portrait in the courthouse, he was also reimbursed–twice–by the state for the reportedly $879 cost of matting the portrait.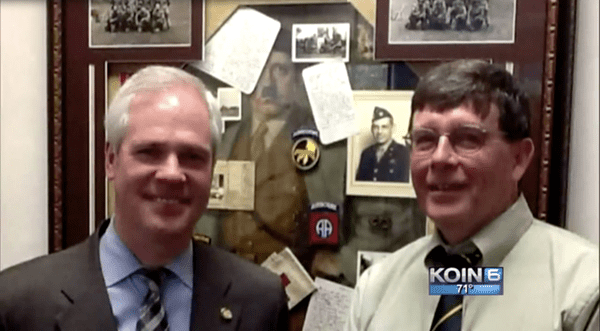 Perhaps just as curious as Day's affinity for Hitler is his relationship with a former Navy Seal. The commission found that Day used his influence and position to force the felon ex-Seal into an inappropriate relationship with him:
The commission also said that Day "relentlessly" texted and sent personal photos to a felon who was on probation, even though the felon was trying to avoid a personal relationship with Day. The felon was a Navy Seal, and the commission wrote that Day compelled the man to introduce Day to the his Navy Seal friends and that Day even brought one "noted Navy Seal" to a wedding to "show him off."
In a statement, Day said he was "disappointed" with the commission's findings:
"A quick review of the decision indicates that the Commission's 'finding of facts' are at odds with evidence presented at the hearing, and some have no evidentiary support at all," the statement read. "The opinion is especially troubling because it disregards Judge Day's First Amendment rights to freedom of religion, speech and association. He will vigorously defend these rights, and his innocence of the remaining charges, before the Oregon Supreme Court."
Watch a news report from September on the beginning of Day's investigation, below.