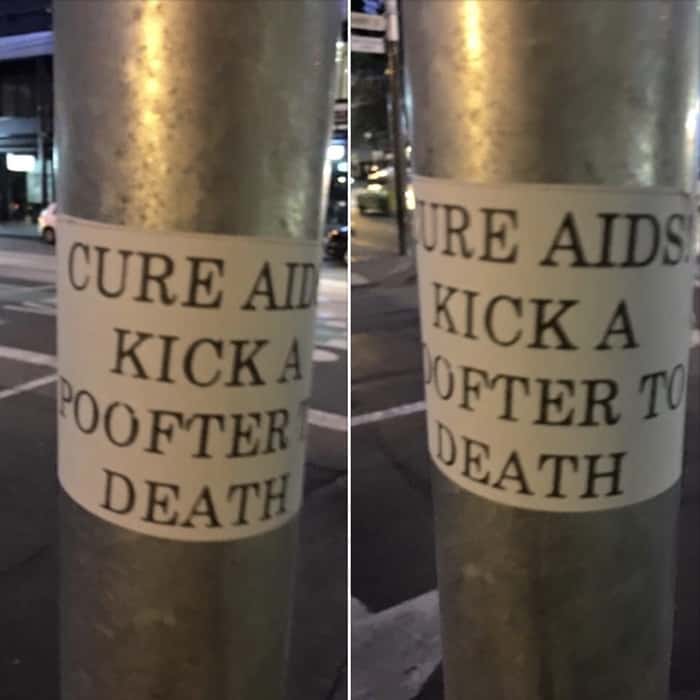 Homophobic hate is alive and well in Melbourne, Australia. Someone is pasting signs in public areas of South Yarra that read "Cure AIDS: Kick a Poofter to Death." "Poofter", of course, is a gay slur equivalent to "faggot".
Melbourne resident Nick Henderson posted these to Facebook on Monday. He wrote: "A friend just spotted these on Chapel Street, South Yarra, this evening, took these images and tried to pull them down – they're stickers. I suspect there may be more. If anyone is walking along or around Chapel St, please look for anymore of these."
According to Buzzfeed News, which spoke with Henderson, the area is close to Chasers Nightclub, where a club night called "Poof Doof" happens every weekend and the area has traditionally been very gay-friendly though that may be changing.
"I've been living in the area for about ten years, and there used to be a sense of gay Melbourne, a lot of venues. A lot of them have moved out, and a lot of the venues that have moved in are straight," he said.
"The comments that I've seen from a lot of younger gay men is that they do feel increasingly less safe."
The police have been notified and are conducting an investigation:
"Police are working with the local council to identify whether any other stickers have been found and removed recently," she said.
Increased patrols in the area will "keep a watchful eye" for more stickers.
"Generally this is a very inclusive community so we were shocked and very disappointed to see this viciously offensive sticker," Prince said.