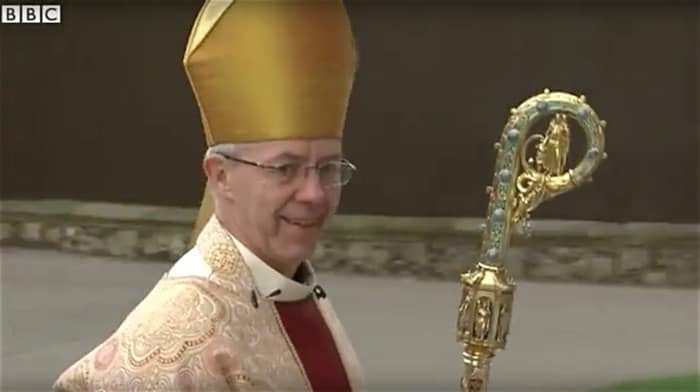 The Anglican Church yesterday punished the U.S. Episcopal church for its inclusiveness of gay people and gay marriage by suspending it for three years from any committees or decision-making within the church.
A task force has also been formed to try and reconcile the church body's differing views.
The Global Anglican Future Conference, which represents theologically conservative Anglican leaders worldwide, had sought sanctions against the U.S. church, and some members said they would walk out of this week's meeting unless some penalty was applied. One leader, Ugandan Archbishop Stanley Ntagali, did so. In a statement Thursday, the conference known as GAFCON said their leaders were pleased by the outcome of the meeting, but "this action must not be seen as an end, but as a beginning."
…The most vocal protests to the Episcopal embrace of gay rights came from Africa, home to some of the fastest-growing churches in the Anglican communion and the deepest opposition to gay relationships as a violation of Scripture. Many African countries have criminalized gay relationships.
Watch a BBC report:
https://www.youtube.com/watch?v=Mq53ApEACig
Gay Bishop Gene Robinson tweeted this following the news of the disciplinary action:
God's judgment against those who include too many will be less harsh than the judgment against those who include too few. I'm just sayin'.

— Gene Robinson (@BishopGRobinson) January 14, 2016
Robinson also said:
Our Presiding @BishopCurry, in his authentic and holy way, speaks for me. https://t.co/8FoAmdnf9N

— Gene Robinson (@BishopGRobinson) January 14, 2016
Curry spoke to the primates in remarks that were made available to the Episcopal News Service:
"Many of us have committed ourselves and our church to being 'a house of prayer for all people,' as the Bible says, when all are truly welcome," Curry said in remarks he later made available to Episcopal News Service.
"Our commitment to be an inclusive church is not based on a social theory or capitulation to the ways of the culture, but on our belief that the outstretched arms of Jesus on the cross are a sign of the very love of God reaching out to us all. While I understand that many disagree with us, our decision regarding marriage is based on the belief that the words of the Apostle Paul to the Galatians are true for the church today: All who have been baptized into Christ have put on Christ. There is no longer Jew or Gentile, slave or free, male or female, for all are one in Christ.
"For so many who are committed to following Jesus in the way of love and being a church that lives that love, this decision will bring real pain," he said. "For fellow disciples of Jesus in our church who are gay or lesbian, this will bring more pain. For many who have felt and been rejected by the church because of who they are, for many who have felt and been rejected by families and communities, our church opening itself in love was a sign of hope. And this will add pain on top of pain."
Curry told the primates that he was in no sense comparing his own pain to theirs, but "I stand before you as your brother. I stand before you as a descendant of African slaves, stolen from their native land, enslaved in a bitter bondage, and then even after emancipation, segregated and excluded in church and society. And this conjures that up again, and brings pain.
"The pain for many will be real. But God is greater than anything. I love Jesus and I love the church. I am a Christian in the Anglican way. And like you, as we have said in this meeting, I am committed to 'walking together' with you as fellow primates in the Anglican family."
More remarks are expected from the Anglicans at a news conference later today.