Houston Mayor Annise Parker officially left office Saturday after six years leading the nation's fourth-largest city.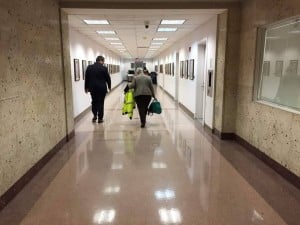 Parker became the first openly LGBT person elected mayor of a major US city in 2009. She was re-elected twice but was term-limited last year.
Houston voters replaced Parker with Democratic state Rep. Sylvester Turner, who was sworn in during a private ceremony Saturday morning. A public inauguration will be held Monday.
"It's been an honor serving my hometown for over 18 years," Parker wrote on Facebook beneath the above photos on Thursday, adding that she was "feeling melancholy."
"Tonight was the last time I exit City Hall as your Mayor, which has been the best job I've ever had. Goodnight, Houston!," she wrote.
Fittingly for a champion of diversity, Parker's last meeting was with members of the city's Muslim community, to discuss a Christmas day mosque fire that's been ruled an arson.
A longtime lesbian activist who once led the Houston GLBT Political Caucus, Parker spent 12 years as a city councilwoman and city controller before she was elected mayor.
In a farewell editorial, The Houston Chronicle noted that during her third and final term, Parker suffered several setbacks, including the defeat of the city's Equal Rights Ordinance. But the newspaper added that those setbacks won't define her legacy:
She won some and lost some, but Mayor Parker was always a dedicated public servant with her eye on the future. … She started her political career as a fighter, and all too often Parker seemed more comfortable throwing punches than building consensus – for better or worse. Her sharp tongue and heavy hand during the HERO fight made it all too easy for her political opponents to feel comfortable in their stance against the ordinance.
People urged by food magazines or travel guides to look at Houston may have been surprised to see a technocratic LGBT activist and former oil energy employee as mayor – they probably expected some cowboy-hatted CEO. But after spending some time here, it should be no surprise to find that a Rice University-educated, hard-working lover of everything Houston embodies the spirit of our city. We hope that Parker and her wife will enjoy living the lives of private citizens at their historic home in the heart of Montrose. After finishing Houston's political marathon, she's earned it.
Parker married her longtime partner, Kathy Hubbard, in California in 2014. They have three grown children.
Parker, 59, has said she's interested in eventually running for countywide or statewide office. But for now, she plans to complete a three-month fellowship at Harvard University's John F. Kennedy School of Government.
So long, Annise.