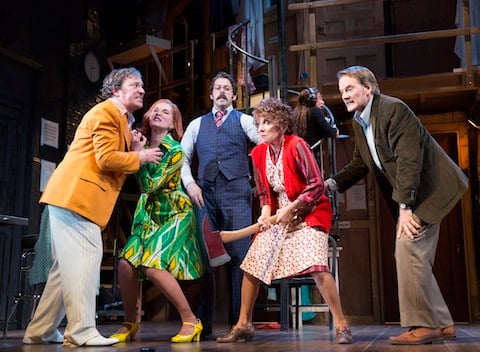 It's a strange thing to watch a backstage comedy — about a group of showpeople putting on a play that's a hot mess — turn into, well, a hot mess. Strange, and funny — often laugh-out-loud funny, in fact — but also, unfortunately even more meta than its author may have intended.
Roundabout Theatre Company's revival of Michael Frayn's 1982 romp Noises Off, which opened last night at the American Airlines Theatre, finds a company of Broadway veterans pretending to be a motley crew of amateur players, pretending to be characters in a door-slamming farce. The LOLs that ensue during the first of three acts in director Jeremy Herrin's production eventually get lost somewhere in the show-must-go-on mayhem.
First, the cast list: We have Tony-winning comedienne Andrea Martin (as the old-school diva, playing a daffy maid), Smash's Megan Hilty (as the ditz, playing…the ditz), David Furr (as the inarticulate hothead, playing the bachelor), Jeremy Shamos (as the neurotic, playing…the neurotic), Kate Jennings Grant (as the sane one…playing the sane one), Chaplin's Rob McClure as an overworked stage hand, Tracee Chimo as a romantically put-upon stage hand, and the venerable Campbell Scott as their womanizing director.
On a set that would be perfect for a '70s sitcom nestled in a Swiss chalet, the company stumbles through their final dress rehearsal. We get the gist of the silly play within the play: A couple who's supposed to be out of town returns to their country house, where one of their renting agents has brought a woman for a tryst. And in a show of '80s-era racial insensitivity, an "Arab Sheikh" comes by for a tour, which really just serves as an excuse for a mistaken identity gag involving a white sheet.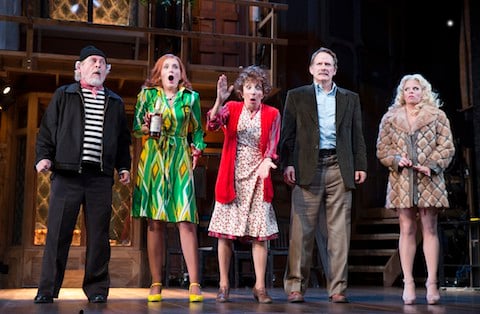 We also find out who among the company is sleeping with whom, who's jealous of whom, who drinks too much, who gets nose bleeds at the slightest hint of violence, etc. Then, the set gets flipped around, and we watch it all go horribly awry from backstage.
But the revival's second half — what should be a prolonged, hysterical frenzy — goes off the rails. An extended pantomime of hushed backstage pratfalls lacks clear choreography to direct our gaze amidst chaos. The disastrous performance we witness in the third act unspools without the precision that might make it funnier than it is awkward.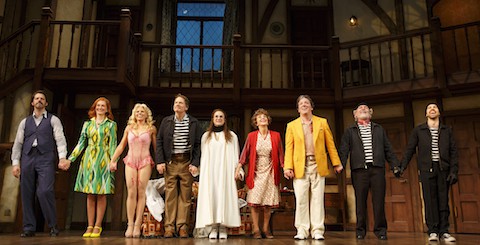 Yet, despite the production's muddled payoff, you'd be hard pressed to stifle guffaws at Frayn's knee-jerk punch lines, or not to take pleasure in watching seasoned performers have a blast attempting to tell a crazy story.
Turns out, though, even with a stable of top talent, putting on a comedy is harder than it looks — even when it's supposed to look like a mess.
Recent theatre features…
Towleroad's Top 10 Plays and Musicals of 2015
Cynthia Erivo Soars in Broadway's 'The Color Purple' with Jennifer Hudson and Danielle Brooks: REVIEW
Al Pacino Opens in 'China Doll' on Broadway: REVIEW
Andrew Lloyd Webber's 'School of Rock' Musical Blares Onto Broadway: REVIEW
George Takei Talks Racism, Coming Out, and Fulfilling His Life's Mission on Broadway: INTERVIEW
Bruce Willis and Laurie Metcalf Open in 'Misery' on Broadway: REVIEW
Follow Naveen Kumar on Twitter: @Mr_NaveenKumar (photos: joan marcus)