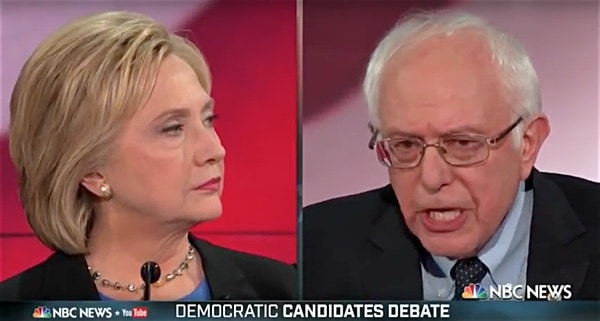 Hillary Clinton, Bernie Sanders, and Martin O'Malley faced off last night in Charleston, South Carolina in a debate which contained some hot exchanges, and showed some clear differences in policy between the candidates, who sparred on gun control, the criminal justice system, healthcare, big banks, climate change, Iran, and Syria.
The two candidates, both under exceptional pressure in their final debate before the Iowa caucuses, were a study in contrasts. Mrs. Clinton seemed careful to be impassioned but not overly aggressive, while Mr. Sanders was his typically emphatic self, waving his hands frequently as his unmodulated voice rose at times to a near-holler. He smiled a few times, but it felt awkward. Mrs. Clinton laughed a few times, but it felt forced.
The clips below are a good summary of what went down.
https://www.youtube.com/watch?v=Izlp6HBsxIk
https://www.youtube.com/watch?v=nUYiPZz0GoU
Here's more on criminal justice and racial profiling:
https://www.youtube.com/watch?v=kMo_PP7PlfE
Clinton and Sanders clashed on healthcare strategy:
https://www.youtube.com/watch?v=URplxMv3qXA
O'Malley and Sanders attacked Clinton over her ties to Wall Street:
https://www.youtube.com/watch?v=L78RBLp9NXI
And Sanders gets annoyed by a question about Bill Clinton:
https://www.youtube.com/watch?v=TtPDO1iCA4A