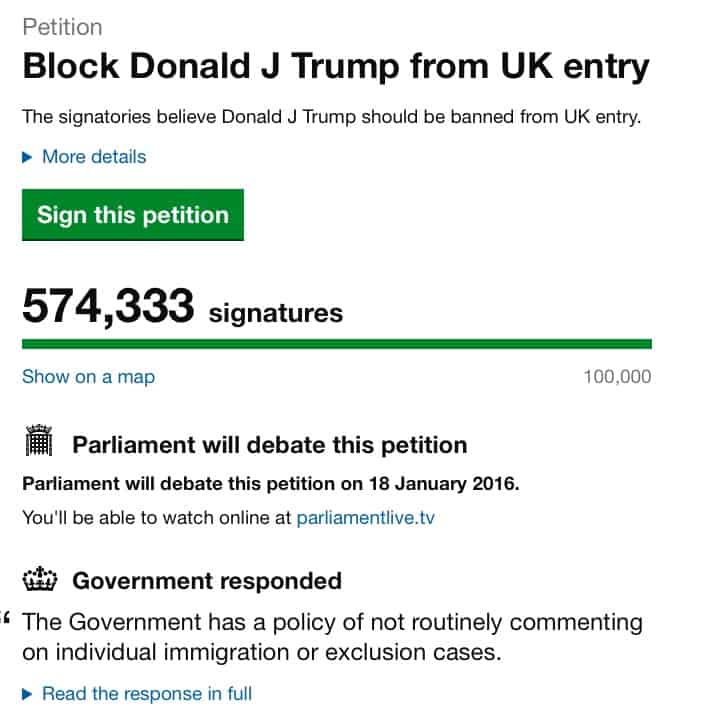 UK's Parliament will formally debate banning Donald Trump from the country over his remarks about Muslims after a petition calling for him to be blocked received more than half a million signatures (574,310 as of this posting).
The petition was started by a journalist and satirist in Scotland after Trump's controversial demand for a "total and complete shutdown" of Muslims entering the United States. But the debate is not unusual and does not necessarily mean that the British government is considering banning Trump. Parliament considers all petitions with more than 100,000 signatures.
Thus far, the British government has stayed silent on whether it will consider a Trump ban. The official government response posted by the petition states: "the Government does not routinely comment on individual immigration and exclusion decisions."
Home Secretary Theresa May, whose office holds the power to prevent individuals from access to the U.K., refused to comment on Trump's case in December but George Osborne, Chancellor of the Exchequer and David Cameron's right-hand man, has signaled that a ban is unlikely.
Muslim Labour MP Tulip Siddiq has pledged to destroy Trump during debate today:
The Labour MP for Hampstead and Kilburn told the Telegraph: "The law needs to be applied to everyone equally and the Home Office has previous in banning hate preachers engaging in rhetoric similar to that of Trump.
"To argue there is no precedent for banning him does not stand up to decisions taken by this Home Secretary, or indeed previous Labour Home Secretaries. The real question is 'Why should we make an exception for billionaire politicians?'. We should not. Those that argue his words are "a joke" or "do not amount to inciting violence", need to take a closer look at the increase in anti-Muslim hate crimes in America since his comments. We must confront the reality that his comments have provoked, and consider whether we want to import such hatred to this country."
CNN adds:
There hasn't been any significant polling, though two online surveys in December showed between 25% and 30% of Brits agreed with Trump's proposal to halt all Muslim immigration. Those defending Trump are certainly in the minority whenever there's a debate in the media. He's often not taken seriously in Britain, especially when Trump claimed that parts of London were so radicalized, police were in fear of their lives.
Trump's organization has commented on the debate, and made threats, of course:
"Any action to restrict travel would force the Trump Organisation to immediately end these and all future investments we are currently contemplating in the United Kingdom. Westminster would create a dangerous precedent and send a terrible message to the world that the United Kingdom opposes free speech and has no interest in attracting inward investment."
Here's where you can watch the debate.
Here's a primer on Trump the BBC put together for the UK: