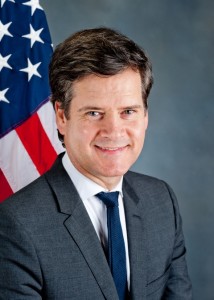 A group of prominent LGBT New York City politicians will endorse Hillary Clinton on Tuesday, along with three city-based LGBT rights groups, the NY Daily News reports.
Coming out for Clinton are Senator Brad Hoylman (right), the state's only openly gay (state) senator, Assembly members Deborah Glick (D-Manhattan), Daniel O'Donnell (D-Manhattan), Harry Bronson (D-Rochester), and Matthew Titone (D-Staten Island), according to the paper.
City Council members James Vacca (who came out this week), Daniel Dromm, Corey Johnson, Rosie Mendez, and James Van Bramer will also be endorsing along with the Lesbian and Gay Democratic Club of Queens, the Lambda Independent Democrats of Brooklyn, and the Gay and Lesbian Independent Democrats.