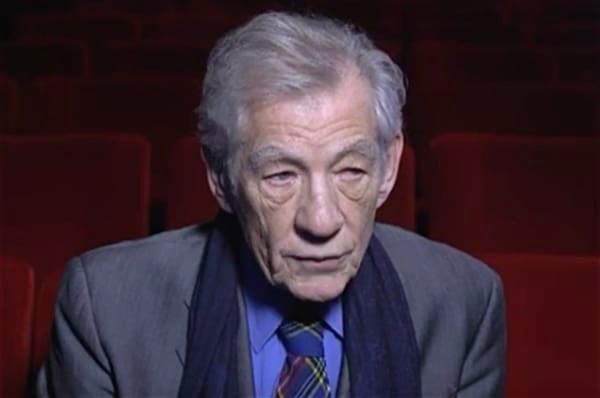 Actor Ian McKellen told the Press Association that the diversity issue in Hollywood is a "legitimate complaint" and as a gay man he sympathizes with black actors who feel they aren't represented.
Said McKellen:
"I think you have to live in Hollywood where the Oscars means so much more than they do elsewhere to understand why people's feelings are running so high, and the fact that black people feel underrepresented in studio movies and big movies…well, it's what women thought for a long time. It's what gay people like myself still think. And it's a legitimate complaint and the Oscars has become the focus of those worries. So I sympathize."
Watch:
https://www.youtube.com/watch?v=Zzdf2RMEN54
McKellen made similar assertions in an interview with Sky News.
Following mounting anger and boycott threats after its acting Oscar nominations consisted only of white people, the Academy on Thursday announced a commitment to double the number of women and diverse members of the Academy by 2020.
Wrote AMPAS in a press release:
"The Academy is going to lead and not wait for the industry to catch up," said Academy President Cheryl Boone Isaacs. "These new measures regarding governance and voting will have an immediate impact and begin the process of significantly changing our membership composition."
Beginning later this year, each new member's voting status will last 10 years, and will be renewed if that new member has been active in motion pictures during that decade.  In addition, members will receive lifetime voting rights after three ten-year terms; or if they have won or been nominated for an Academy Award.  We will apply these same standards retroactively to current members.  In other words, if a current member has not been active in the last 10 years they can still qualify by meeting the other criteria.  Those who do not qualify for active status will be moved to emeritus status.  Emeritus members do not pay dues but enjoy all the privileges of membership, except voting.  This will not affect voting for this year's Oscars.
At the same time, the Academy will supplement the traditional process in which current members sponsor new members by launching an ambitious, global campaign to identify and recruit qualified new members who represent greater diversity.
In order to immediately increase diversity on the Board of Governors, the Academy will establish three new governor seats that will be nominated by the President for three-year terms and confirmed by the Board.